It's no one's business how much makeup you wear. And this Instagram proves it.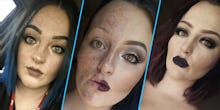 The Instagram account of Kelsie Swygart, a nail technician in Ohio, is usually filled with pictures of bedazzled, precise manicures. So it may come as a surprise that one expertly lit selfie is what's making her go viral. 
Swygart took part in the Power of Makeup Challenge, which asks people to take a picture of themselves with just half a face of makeup on. 
So, Swygart layered on foundation, highlighter, eyeliner and mascara on just half her face. She snapped a pic, just like everyone else. But then, she wrote about the importance of makeup in the caption. 
"Most days I don't wear any makeup at all unless I'm at work and even then it's just brows, liner and mascara," Swygart wrote. "For everyone saying 'too much' or 'too dramatic' etc., can suck eggs. Even if I did this full glam look every day, it would be nobody's concern but my own.
"I do feel beautiful with or without makeup. This challenge was so freaking fun and I will be doing it again sometime soon! Thank you everyone for your kind and supporting comments!" 
Swygart's comments highlight the fact that putting on makeup, however little or much you want to wear, is a personal decision. If someone wants to go without makeup, like Swygart does sometimes, they do. If they want to do a full glam face, then they do that too. 
It's no one's business how much makeup someone decides to wear. 
Although plenty of people are quick to judge when someone is wearing too much makeup or too little (like Alicia Keys, just recently), it really is just a personal decision. And Swygart's post displays just that. 
So far, the post has been liked more than 6,000 times with more than 500 comments. It has also been shared by larger Instagram groups, gaining more than 20,000 extra likes there too. Given the response, she's gone so far as to create an entirely new Facebook page devoted to her makeup looks, called Freckles and Full Glam, where she says she hopes to empower people through makeup. 
"I don't understand how people can be so mean to other people," Swygart told her local television station WPTA. "It's not right. I just really love empowering people and making them feel good about themselves."
Mic has reached out to her for comment.