Barb from 'Stranger Things' gets her revenge in 'Tonight Show' spoof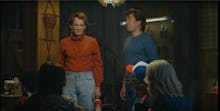 If you think you're upset with the treatment of Barb in Stranger Things, imagine how she feels being woefully ignored by her town after disappearing. Well, now Barb got a chance to say her piece — and it's about as cutthroat as you'd expect. 
During a Stranger Things sketch on The Tonight Show featuring the lovable kids of the show — Finn Wolfhard (Mike), Millie Bobby Brown (Eleven), Gaten Matarazzo (Dustin) and Caleb McLaughlin (Lucas) — their game of Dungeons & Dragons is first interrupted by Nancy's boyfriend, and Jean-Ralphio impersonator Steve (played by host Jimmy Fallon) before Barb makes her grand entrance. 
"Um, what the fuck?" she tells them. "You forget about something? You forget about old Barb? Nancy's friend? Sitting on the diving board, trapped in the fucking Upside Down for the past two months?" 
"Let's review, shall we?" Bard says. "There were two people down there, and you rescued one of them. Do the math, assholes!"
The kids attempt to calm Barb down with some excuses for ignoring her, but it only incites her more — so much so she vomits an interdimensional slug. It's clearly, a casual side effect of her return from the Upside Down. 
But with Barb's return, does that mean we're getting more from her in a recently renewed season two? Evidently not, as she explains that Netflix is giving her a spin-off series, "Orange Is the New Bitch." 
You can check out the sketch from The Tonight Show below: