Stephen Bannon, Donald Trump's campaign CEO, caught on tape calling woman a "bimbo"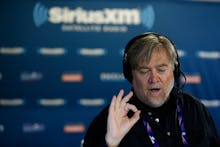 Donald Trump's campaign CEO, Stephen Bannon, was caught on tape in 1994 threatening a female employee and calling her a "bimbo," according to a report published Thursday by BuzzFeed.
Bannon made the comments against a former employee named Abigail Alling, whom he called a "29-year-old bimbo," "self-centered" and "deluded." Bannon also threatened to give her "a reality check that I'm going to deliver to her," according to audio published by BuzzFeed.
Alling was indicted for sabotaging the Biosphere II project Bannon was managing in Arizona — a project that was meant to simulate life on Mars but failed after being plagued by money troubles and internal fights.
Alling said she disrupted the project, including through a break-in, because she did not feel Bannon was meeting safety standards.
Her lawyer attempted to use the audio of Bannon's disparaging comments about Alling to try and get the charges against her dismissed.
Yet during a pretrial interview with Alling's lawyer, Bannon denied making the disparaging remarks against Alling, BuzzFeed reported.
BuzzFeed said he denied making the comments against Alling before Bannon knew the comments had been caught on tape.
"I've never referred to Ms. Alling as a bimbo," Bannon said twice during the pretrial interview, according to BuzzFeed.
He later admitted during the interview that he "may have used terminology particular like that last that you just mentioned."
The audio of Bannon making threats against a female employee is just the latest bad news to surface since Trump named Bannon his campaign CEO in August.
Dredged up police records and divorce proceedings showed Bannon was once accused of domestic violence against his then-wife.
The ex-wife also alleged Bannon had made anti-Semitic comments about having his daughters attend school with Jews.
And NBC News reported Wednesday that Bannon is currently being investigated for potential voter fraud in Florida.
The controversies surrounding Bannon add further tumult to the Trump campaign, threatening to halt the candidate's momentum even as Democrat Hillary Clinton's polling lead dips amid renewed questions about her email practices and the Clinton Foundation.
Trump has already shaken up his campaign structure three times, firing campaign manager Corey Lewandowski in June, bringing on Bannon and new campaign manager Kellyanne Conway in August and later accepting the resignation of embattled campaign chairman Paul Manafort.