Fox News host said Spanish-language news is biased, unlike "fair and balanced" Fox News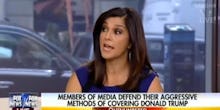 There's one word for this Fox News segment, and it's the same in English and Spanish: No. 
In a segment on Fox News' Outnumbered, co-host and former Real World: San Francisco housemate Rachel Campos-Duffy said that Latinos in the United States don't get the full account of news events because Spanish-language media has a bias problem. Yep — all of Spanish-language media. 
On Wednesday's episode, during a segment about journalists like Jorge Ramos asking the media to be more rigorous in its questioning of presidential candidate and Mexican tourist Donald Trump, Campos-Duffy said: 
"You think it's bad on the English side of the media?" Campos-Duffy said. "Let's talk about Spanish-language media. They are so ideologically liberal." She went on to call Ramos, who was infamously thrown out of a Donald Trump press conference, the "spokesperson for all of Spanish media." 
The co-host continued: "At least on the English side of news, we have Fox News, which is fair and balanced. It gives people a different perspective. There's nothing like that on the Spanish side, and that is why not just Donald Trump but all Republicans have had a difficult moment."
Campos-Duffy went on to say that Latinos need a media outlet like Fox News because they are, at heart, conservative. 
"This demographic is conservative," she said. "They are entrepreneurs. They care about taxes. The only media they get is that. That's all there is. They're getting fed this stuff and it's hard when that's all you get. you don't get the other side on Spanish media." 
According to the Pew Research Center, Campos-Duffy is false in her assertions about Latino voters. Sixty-three percent of Hispanic voters identify with the Democratic Party. And while 27% identify as Republicans, only 10% of all Latinos, regardless of party affiliation, believe that Republican platforms are better for Latino voters. And while the number of Latinos who believe the Democratic Party is better for Latinos has gone down, Republicans haven't made any gains — more Latinos (35%) say the parties aren't very different. 
You can watch the segment, which starts at 20:09, below. Or, skip to Campos-Duffy's comments at 22:15.