Here's what the internet is saying about Xbox Scorpio, the 2017 successor to the One S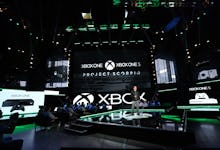 The Xbox One S is currently the talk of the gaming community, but that buzz has an approaching expiration date as Microsoft's anticipated Project Scorpio has a release date of winter 2017. 
Dubbed "the most powerful console ever," Project Scorpio will boast significantly improved visuals, processing speed and 4K resolution along with virtual reality capabilities. Microsoft has also confirmed there won't be any Scorpio-exclusive games, meaning Xbox One gamers will be able to reap the benefits as well.
The release date of of Xbox's Project Scorpio is still a ways away, but here's some of the early commentary around the internet:
Take a look at Microsoft's official Project Scorpio trailer, below: