Justin Bieber covered Tupac's "Thugz Mansion," and the internet had a lot of feelings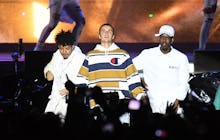 Justin Bieber continued his endless quest to ingratiate himself with the hip-hop community on Thursday, when he tried his hand at emulating a hip-hop GOAT during a BBC Radio 1 Live Lounge performance.
After strumming his way through recent Purpose hits "What Do You Mean?" and "Love Yourself" — and Tracy Chapman's '80s ballad "Fast Car" — pop's problem child took a shot at Tupac's "Thugz Mansion."
He rapped the song with a nearly catatonic level of chill, as if he were basically reading the lyrics with a little melody in his voice. 
Twitter, always a great source for Bieber hot takes, had a lot of feelings about his choices.
There's currently a war raging in hip-hop about whether or not rappers have a responsibility to know their genre's history. Perhaps Bieber is just trying to get on the right side of that debate. However, no matter how many Nas collaborations he lands, in the eyes of many, he will always be the boy who sang "Baby."
Of course, there's always a corner of the internet that's down with anything Bieber does. And with his Instagram still "unavailable," it seems any Bieber will do.