What to know about California's 2016 gun control ballot measure, Prop 63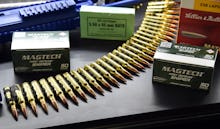 California has some of the toughest gun control laws in the nation. But now, voters will decide whether to impose new restrictions on buying ammunition.
Proposition 63 takes aim at ammunition, rather than gun sales and possession, after several high-profile mass shootings rocked the state in the past decade.
The measure bans possession of large-capacity ammunition magazines, and requires most ammunition sales to "be made through licensed ammunition vendors and reported to Department of Justice," according to Ballotpedia. The law also prohibits anyone convicted of stealing a firearm from possessing a firearm.
The measure was proposed by California Lt. Gov. Gavin Newsom in October. Just weeks later, a mass shooting in San Bernardino, California, left 14 people dead and 22 others wounded.
According to Newsom's office, 38,576 Californians were killed in gun violence from 2002 to 2013.
"We know background checks work. Federal background checks have already prevented more than 2.4 million gun sales to convicted criminals and other illegal purchasers in America," Newsom said. "In 2012 alone, background checks blocked 192,043 sales of firearms to illegal purchasers including 82,000 attempted purchases by felons. That means background checks stopped roughly 225 felons from buying firearms every day. Yet California law only requires background checks for people who purchase firearms, not for people who purchase ammunition. We should close that loophole."
Critics of Proposition 63 say the measure doesn't do enough to prevent these types of attacks, and it unfairly targets law-abiding gun owners.
"It's a cynical shot by Gavin [Newsom] to push himself into the limelight in preparation for his run for governor," Eric Meyers, of Napa, president of the Liberal Gun Club's California chapter, told the Sacramento Bee.
Newsom is running for governor of California in 2018.
Others said they're worried the bill would prevent them from buying ammunition online, which is often cheaper. Newsom tweeted recently that that's not the case.
A website called StopNewsom.com has been set up to try to defeat the bill. "Exercising your Second Amendment rights would become more difficult, and, in some cases, virtually impossible, not to mention far more expensive," the website reads. "This provision would drastically reduce law-abiding people's access to constitutionally-protected ammunition."
However, a recent poll shows widespread support for Proposition 63. According to the Institute of Governmental Studies at UC Berkeley, 82.2% of Californians back the measure.