Colin Kaepernick wore socks with cartoon pigs in police uniforms and Twitter is blowing up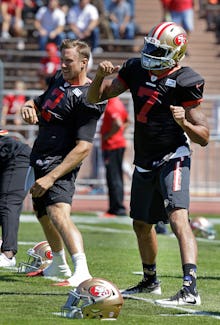 San Francisco 49ers quarterback Colin Kaepernick, who is currently under fire for peacefully protesting inequality and police brutality by sitting down during the pregame national anthem, is now making waves with his socks.
Yep, his socks. It's come to light that during practice, Kaepernick has been wearing socks decorated with cartoon images of pigs wearing police uniforms since at least Aug. 10, according to CBS Sports. The photos of Kaepernick in the socks have been circulating on social media for a few days now. 
For some former Kaepernick fans, the photos of his socks were the final straw. 
Still, some of Kaepernick's supporters on Twitter spoke out in support of his footwear.
On Thursday afternoon, amidst the uproar about his socks, Kaepernick posted a message on Instagram explaining the reasoning behind his sock choice.
"I wore these socks, in the past, because the rogue cops that are allowed to hold positions in police departments, not only put the community in danger, but also put the cops that have the right intentions in danger by creating an environment of tension and mistrust," he began.
Here is the full statement:
Sept. 1, 2016, 3:22 p.m. Eastern: This story has been updated.