Does this video show the new iPhone 7 in action for the first time?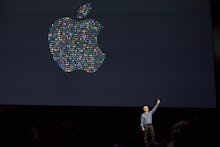 A leak online may have just stolen the iPhone release date thunder. 
Sonny Dickson — a specialist in leaks, namely of the Apple variety — tweeted a video on Wednesday of what may be three iPhone 7 Plus devices in action, Cult of Mac reported. The video is a mere six seconds long and blurry as hell, but it could have just elucidated a few key mysteries surrounding the forthcoming next-gen iPhones. That's if, in fact, this leak is legit. 
According to Dickson's video leak, the iPhone 7 Plus will come equipped with a dual-lens camera — a rumor further affirmed by Apple's keynote invitation, which featured a bokeh effect, leading some to believe it was teasing iPhone camera updates. 
The video also confirms rumors that the iPhone 7 will have fewer bands across the back of the device as well as feature a "pressure-sensitive Home button," Cult of Mac notes, taking design cues from the MacBook's Force Touch trackpad. 
Less than a week until we find out for sure.