Think your awkward #TinderFail goes unnoticed? Bartenders recount tales of date tragedies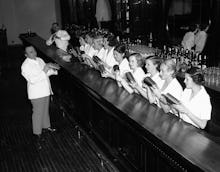 If your Tinder crush proposes a bar for your first date, run the other way. Though the dim lights and low-key vibe might make the moment feel private, your every sip, awkward comment and supposed-to-be-secret, under-the-bar right swipe is, in fact, being monitored — by your bartender, of course."
It's not all bad, though. Four years into Tinder's launch onto the dating scene, bartenders have learned a thing or two about love and dating from spying on your #TinderFails. Here's some of their best lessons in love and cyber-matching. 
Drinking can help.
 "If a date is awkward after the first drink, have one more! If it's awkward after the second drink, it will be awkward after the third ... and fourth." — Haylee Ortiz, bartender at Mister Tuna 
A Bachelor-style date is kind of a risk. Especially if it's a surprise.
"As far as the darkness, weirdness and wackiness is concerned, my favorite story stems from a male patron scheduling five female dates for the same time at our bar.  He sat there and all the women arrived. Four of them cursed him out for wasting everyone's time, for being a misogynist, for using them as part of a practical joke. The fifth young lady, or just one of the five, I'm not sure when she arrived, or whether she placed fifth in any notable qualitative category, was impressed. She thought his efforts were funny and took guts or balls or both, and I believe they left together. 
"I'm not sure if they went home together, or whether they have found love or whether they learned something significant about life in the process, but they succeeded in showing me a brave new world in which anything is possible." — Grant Wheeler, beverage director at the Garret, the Garret East, Dullboy and Dinnertable
Bartenders may be your secret cupids.
"There are incredibly sweet moments ... I can sit back and watch two strangers act both terrified and agreeable toward one another, and then after about 15 minutes or so, I can interject or interrupt or quip on something they might be talking about, and upon doing so these strangers will inch toward each other, open up and relax, because in this moment they aren't strangers to each other anymore because they now know each other better than they know me." — Grant Wheeler
Bartenders may also be your saviors. 
 "I see a lot of people very nervous, I've especially had a lot of women give me a signal to rescue them later if they need. It's always very interesting to see people interact with each other for the first time — it reminds me what that was like." — Luis Hernandez, head bartender at the Eddy
The people asking you out online aren't always the cream of the crop. 
"A guy told me that the girl he was meeting up with was a Tinder match and this was his first time meeting up with someone. He was really nervous and seemed like a good guy, but he seemed kind of off. He was very early. Finally the woman came in, they ordered and it was really weird. He ended up leaving and she stayed for another drink. It seems like some guys need Tinder to find women to date ... they're just socially awkward." — Kevin Traugh, bartender at the Penrose 
Catfishing is an epidemic — in need of a cure.
"I've seen a couple of people come in who are obviously waiting for someone on their first date via Tinder, Bumble, etc. Occasionally, when the catfisher goes to the bathroom, I'll see the catfishee sit there trying to think of ways to get out of the awkward situation." — Justin Lavenue, bartender at the Roosevelt Room
Beware of moochers.
"They ordered full meals with the lady getting expensive food and drink. Then, she went to the bathroom and after awhile she didn't come back and we got worried because she seemed a little drunk when she went in. I asked my manager to check [the bathroom] and nobody was there.... Our barista told us she'd bolted out the emergency exit in the back. The man was like 'oh' when we told him and ate both dinners." —Shane Volpone, NYC bartender
Dating is dating.
"App-based dating is exactly like regularly dating, except totally different.  The emotions are the same — people want to love and be loved in return, people are fearful, anxious, insecure and very vulnerable, but the mechanisms and the capacity for deception within the medium are unique." — Grant Wheeler
The lesson here? True love is hard to find. But you're never really alone.