New York's tampon tax repeal is in effect — so why are some people still being charged?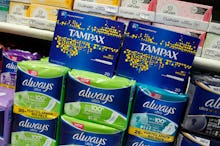 On Thursday, New York's tampon tax ban officially went into effect. The policy aims to make feminine hygiene products more accessible — and reduce just a smidgen of the financial burden brought to you by the patriarchy.
The Planned Parenthood of New York City Action Fund tweeted out a photo of a CVS receipt showing the material results of the legislation: A 20-count box of tampons were priced at $4.89 and, lo and behold, the buyer paid exactly that amount for them at checkout. 
Cuomo signed the legislation into law in July, making New York one of the first states to "join the movement to exempt feminine hygiene products from sales tax" — a movement that could save women as much as $10 million a year.
"This is a regressive tax on essential products that women have had to pay for far too long and lifting it is a matter of social and economic justice," Cuomo said in a statement.
"With the law in effect, we have taken one more step toward a more just and more fair New York for all."
But not everyone was having success with the new policy: Across Manhattan, a Duane Reade pharmacy charged Cut writer Susan Rinkunas the standard 8.875% sales tax for sanitary napkins. She shared the photo on her Twitter account using the hashtag #TweetTheReceipt. 
Other women reported the same difficulties, tagging Cuomo in their tweets and asking for answers.
According to a press release from Cuomo's office, the New York State Department of Taxation and Finance informed all businesses about the tax exemption, which includes not just pads and tampons but douches, feminine hygiene syringes and "vaginal creams, foams, ointments, jellies, powders, and sprays used for hygiene purposes." 
In an email to Mic, senior deputy communications director Rich Azzopardi said, "I'm told Tax and Finance has gotten a few scattered reports regarding some retailers who have not yet updated their systems and they are following up with them to ensure compliance with the law."
In the meantime, the office's press release said anyone who believes they are being unfairly taxed for any of those products can submit a form for a tax refund from the state, including the receipt from their purchase.