Listen to episode 8 of our podcast 'Special Relationship,' with guest Bill Kristol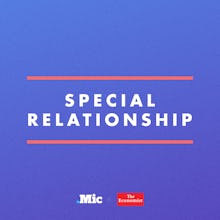 We're back!
Special Relationship, the podcast from Mic and the Economist that looks at the 2016 race for president from a global perspective, returns with a hard look at the alt-right phenomenon.
Hillary Clinton's decision to call out this amorphous branch of conservatism by name and tie it to rival Donald Trump in a major campaign-trail speech won accolades from those who deem the movement a haven for racists and ultra nationalists.
But in doing so, did she give proponents of the alt-right the very spotlight they craved?
Helping tackle the prickly topic are two guests: Weekly Standard editor Bill Kristol, a noted critic of both Trump and Clinton, and the Economist's Charlemagne columnist Tom Nuttall.
Kristol, a conservative voice for the #NeverTrump movement, has come under personal attack from the hard-right Breitbart News under Steve Bannon, the controversial editor who recent swung over to become Trump's campaign CEO.
He questions whether conservatism will be forced to change — and how much — based on whether Clinton or Trump prevail, and talks about how he'll cast his own vote in November.
Nuttall weighs in from Brussels with context about the shape and growth of similar political movements in Europe, and shares his take on their longevity and power.
Special Relationship is hosted by John Prideaux of the Economist and Celeste Katz of Mic. Episode eight was produced by Zachary Mack.
Listen here:
Subscribe to Special Relationship on iTunes, Google Play or wherever you listen to podcasts. Please give us a rating and leave a review, and stay tuned for our ninth episode.