Finally there's a feminist magazine, Kazoo, for girls who love science and climbing trees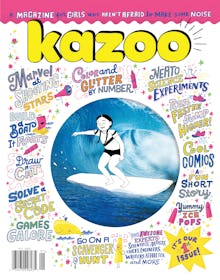 In February, Erin Bried was perusing the magazine rack with her 5-year-old daughter, Ellie, when she noticed something unsettling about the magazines for girls: Their covers all had dolls, lip gloss and princesses on them; they all had articles about "how to get pretty hair, how to have good manners" and "how to handle friendship drama," Bried said in an interview.
The problem? Ellie didn't like princesses all that much; she liked outer space and climbing trees. "We left that day empty-handed," Bried said. "She wasn't interested, and I was annoyed."
The more she thought about it, the more she realized "we have to do better" in the content we offer young girls, Bried said. 
The idea for Kazoo, a feminist magazine for girls with diverse interests, was born.
Weeks after coming up with the idea for a new kind of girls' magazine, Bried — who'd spent her career working in magazines, at places like Self and Glamour and Women's Sports & Fitness — launched a Kickstarter campaign to raise money and gauge interest for the idea. The results were overwhelming: In 30 days, the campaign raised more than $171,000.
"We closed our campaign as the highest funded journalism Kickstarter campaign in history," Bried said.
In August, the first issue of Kazoo shipped. It was everything Bried and Ellie had been missing at the newsstand that day way back in February. The issue has a Diana Nyad-themed maze celebrating her swim from Cuba to Florida, fun activities and recipes — and nothing about makeup or princesses. 
That's not to say that Kazoo is anti-princess. "I don't think there's anything wrong with princesses," Bried said. "I think pink is a beautiful color." But, she added, "I think it's wrong when that's the only thing we offer our kids."
Bried plans to include lots more activities, cool facts and interviews with women leaders in future issues. 
"I think it's important for our daughters to see these amazing women role models," Bried said. "Strong women are underrepresented,  I'm trying to compensate for that."
The second issue of Kazoo will ship in October and can be bought online or in bookstores.