California just passed a bill that would subsidize diapers for poor families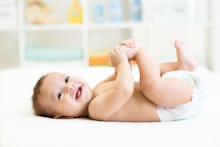 On Tuesday, California state legislators passed a bill that would provide poor families with $50 monthly vouchers to pay for diapers. 
The average family can spend between $30 and $80 on diapers in a month, putting them beyond the price point of families who are already struggling to pay for food and other necessities.
Previously, diapers were grouped together with cigarettes, alcohol and pet food as items assistant programs like CalWORKs and the California Special Supplemental Food Program for Women, Infants, and Children banned from purchase, according to ThinkProgress.
After reviewing the bill, the California legislature wrote in the bill's text online, "Lack of sufficient diapers can lead to multiple problems for families in need, including unhappy babies, unhealthy communities, undereducated toddlers and underemployed adults." 
In 2013, Joanne Goldblum, a social worker and author of a Yale study exploring the impact of families' lack of access to diapers told NPR she found a correlation between diaper needs and mental health needs.
"Moms who described significant diaper need were at higher risk of having a stress- or mental health-related issue than even those moms who described having food need," Goldblum said.
What's more, Goldblum added that most childcare centers require that parents provide disposable diapers for their children, which would feed into the problem of "underemployed adults" California legislators mention.
"The need is much, much greater than the supply, Goldblum told NPR. "It really is a problem."