These 2016 election apps could help revolutionize American politics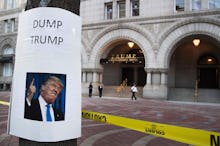 Open the App Store and search "election." Similar to 2012, games appear that offer users a path to win the Electoral College. Apps advertise tailored election news, or ways to support Donald Trump and Hillary Clinton. 
And in this election, a new mobile player has emerged: apps that aim to change American democracy with a swipe or a tap. 
But in one statistic that accurately sums up the feeling of many Americans toward 2016, the most popular election app is not one likely to change our elections. It features a bird that has to navigate walls to "dump on Trump." 
Leaders of self-described "civic tech" apps claim they will change how Americans come to understand policy and how influencers grasp social sentiment. While these platforms vary in style and depth, each app aims to change how we track public opinion through real-time engagement with millions of phone-addicted voters. App leaders have raised millions of dollars from investors to prove their product is viable. 
But so far, none of them have drawn a user base anywhere near Trump Dump or other election-related games, according to data provided to Mic by SensorTower, a firm that tracks usage of iOS apps. SensorTower analyzed app downloads for Mic between May 2015 and August 2016. More than 97% of those downloads were in the U.S. 
While Trump Dump's popularity has been previously reported, data provided to Mic by SensorTower shows a myriad of Clinton, Trump and election-related apps which hope to capitalize on the volatility of the 2016 election. But none have yet to rival Trump Dump's nearly 1.4 million downloads since its launch in January. 
While "civic tech" platforms like Countable and icitizen have a straightforward goal — help brands and lawmakers more accurately understand people's political views — their user base is still small compared to viral election games or other apps. From May 2015 through August, both apps combined had about 10% of the downloads of Trump Dump.
In comparison to other 2016 apps, Clinton-related downloads barely register: there were only six Clinton-related apps that each had more than 1,000 downloads. Users downloaded all of those about 61,000 times. 
These "civic tech" apps angle to disrupt polling firms and market research with real-time data from a large population. The value of success could be billions of dollars. But first, these apps must convert a user's fleeting attraction into long-term engagement. While app leaders say retention has been promising, the question remains: Is the incentive to understand or change politics enough to keep users coming back? Or enough to make people download in the first place?
"We've found that these apps have yet to acquire a substantial user base on the App Store," said Wes McCabe, a spokesman for SensorTower. "It will be interesting to see if these publishers can capitalize on the heightened attention around the election as we approach November." 
"Civic Tech"
When Russ Reeder joined iCitizen in early 2015, he had already found success at half a dozen other technology companies. But he says he had to take the opportunity to run a startup that aims to disrupt a $20 billion annual industry. 
"The whole social sentiment market is a disaster," Reeder said in a phone interview from iCitizen's Nashville, Tennessee, office. The CEO paints the picture of polling and market research firms that are too partisan and slow to accurately track fast-moving social sentiment.
"This country is about public opinion," Reeder said. "But it's the job of the elected official to understand what the public feels so they can make the right choices. Right now, they don't have the right tools." 
That is where mobile apps like icitizen, Countable, Voter and others say they add value. By asking users for their views on a myriad of political subjects, combined with location and demographic data iPhones provide, these apps can tell corporate executives, senators, marketing firms, political candidates and others how Americans feel in real-time. 
The value of getting that right, as Trump might say, is yuge. With billions of dollars spent on polling and market research annually, these app creators hope to grow to the point they can more quickly offer more accurate information than expensive polling firms.
"I absolutely see a major financial opportunity in 'civic tech,'" said Hunter Scarborough, founder of Voter, the "Tinder for politics" app that asks users to swipe left or right when they are asked a number of political questions. This app aims to track the political leanings of the coveted millennial demographic.
Support marijuana legalization? Swipe right. Opposed to legalization of same-sex marriage? Swipe left. With each swipe, users provide Voter with personalized data about the political and social opinions of thousands of Americans — a valuable commodity for companies and candidates alike.
Reeder said iCitizen has raised $11 million in investment over the last 18 months and $17 million since the company launched in 2012. Countable CEO Bart Myers says he has raised $2 million. His platform directly connects elected officials and companies with feedback on policies and products. 
Myers said finding investors has been a challenge because "civic tech" startups have yet to prove they can grow into thriving tech behemoths like Twitter or Facebook. There is no successful IPO history for these apps — they are in their Wall Street infancy. 
Will this work? 
The data does not lie: the mobile phone apps that are the most popular give users a reason to return. A game is addicting, an app improves sleep or a news organization helps users feel connected. Relative to these apps, themes of political engagement and education have yet to draw a large audience.
But while a game like Trump Dump may generate viral popularity, the success is short-lived. According to SensorTower, the top 2016-related app saw about half its downloads in its second month on the App Store. In August, it was downloaded only 7,100 times. 
"On the consumer side, the only signal that truly shows heightened interest is the viral hit games," McCabe said. Over the past year, the number of Trump-related apps on the App Store has skyrocketed. 
While they admit their audiences need to grow, "civic tech" app leaders say their users are highly engaged. 
Nearly half of Countable's users are still engaged after six months. And Myers says more than a million people have used the website and app combined. SensorTower shows icitizen may see as little as a few hundred downloads a month, but Reeder says there are "tens of thousands" of users on any given day. Voter has thousands of coveted millennial users that Scarborough said can be sampled for data other pollsters cannot easily provide. 
Overall, SensorTower's data shows these apps have yet to move the needle on iOS devices. Combined, notable "civic tech" apps have monthly user bases in the tens-to-low hundreds of thousands. That is small given there are more than 100 million iPhones in use in the U.S. that offer 1.5 million apps and 1,000 new additions each day.
But with national surveys of voters reliant on a thousand or so respondents, "civic tech" creators believe their method will prove valuably disruptive.
"Politics and government is one of the last bastions to be unaffected in a big way by technology," Voter's Scarborough said. "And I don't think that's going to be much longer."