How Gary Johnson could change presidential politics — even if he doesn't make the debates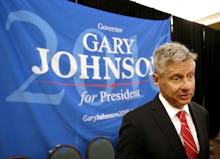 Gary Johnson, the Libertarian Party's presidential nominee, has made it his mission to reach 15% in national polls. If he does, he would be eligible to participate in the presidential debates and present himself as the alternative to Republican Donald Trump and Democrat Hillary Clinton. But with the Commission on Presidential Debates planning to announce which candidates have met the polling threshold in the coming weeks, Johnson has not made the gains he needs.
Johnson has hovered around 8 points in the RealClearPolitics polling average for months. He is only halfway to 15%. If you loathe Trump and do not trust Clinton, this is a disappointment. But if Johnson can draw at least 5% in the popular vote, he could have a lasting impact on presidential politics and free up millions of dollars in public funding for his party's nominee in 2020.
The Federal Elections Commission's public funding system means it has hundreds of millions of dollars that presidential candidates can use to fund their campaigns. The FEC fund is financed by a voluntary $3 allocation that citizens can designate on their taxes. But the money comes with a catch: Democratic and Republican nominees who accept the funds cannot accept private contributions in the general election.
Nearly $240 million was disbursed to presidential candidates in the 2000 election, and $207 million was given out in 2004. In 2012, Barack Obama and Mitt Romney both declined public funds for their campaigns. Johnson drew slightly less than 1% of the vote as the Libertarian nominee in that election.  
To qualify for public funding, a political party must have drawn at least 5% of the popular vote in the previous presidential election. That's where Johnson's 2016 candidacy comes in.
Johnson's polling puts him on track to draw at least 5% of the national popular vote. If he accomplishes that, the 2020 Libertarian nominee could qualify for tens of millions of dollars in public funds. Additionally, nominees who reach the 5% threshold may qualify for retroactive public funding.
Each year, the FEC calculates the grant to presidential candidates with a base of $20 million plus an adjustment for inflation from 1974, an FEC spokesman said in an interview. The grant for a major party nominee in 2016 is $96 million. Neither Trump nor Clinton is accepting public funds.
If a minor party garners 5% of the popular vote, the party receives a percentage of the grant in the next election. That percentage is determined by comparing the total number of votes the third-party candidate drew in the last election to the average of the major party candidates. 
For example, if 100 million votes are cast on Nov. 8 and each candidate received as much support as polls suggest, Johnson, who is on the ballot in every state, would receive around 7 million votes. The average of the votes Trump and Clinton each receive would be about 40 million. Because Johnson drew 17.5% of that average, the Libertarian Party would receive 17.5% of the public grant in 2020 — possibly $20 million or more. 
Presidential campaigns are expensive, and Clinton and Trump will spend hundreds of millions of dollars during the general election campaign. But for a candidate like Johnson, who raised $3 million through July 31, public funding could make a Libertarian far more viable in 2020. When the major parties were less hated and Johnson was less well-known in 2012, he only raised $2.3 million.
Unlike major party candidates who accept public funds, a future Libertarian nominee could continue to tap grassroots support and raise up to $2,700 from individuals, since minor party nominees aren't subject to the same restrictions as the major parties. Johnson said he raised $2.9 million through the first 15 days of August during his push to raise $1.5 million to reach 15% in the polls by Aug. 15. More than 90,000 people gave Johnson an average of $32, according to his campaign. 
The Libertarian Party would be more prepared to take advantage of Johnson's success than past third parties. A Libertarian has never won a congressional race, but they've competed in hundreds over the past decade. More than 140 Libertarians hold local elected office. And since 2008, party registration has nearly doubled to more than 410,000.
Running as the nominee of his recently formed Reform Party in 1996, Ross Perot received $29 million in public funds after having drawn 19% of the popular vote in 1992, when he ran as an independent. However, the Reform Party did not have the infrastructure in place to take advantage of the funds, and Perot garnered just 8% of the vote in 1996.
With Libertarians focused on "shrinking big government," National Chairman Nicholas Sarwark said in an interview that he is not sure party members will want their candidate to accept public funding. 
"Is it right to take taxpayer money to fund our campaigns? We criticize other parties for doing it," Sarwark said. But public funding "would open up some options for us."
With historic majorities of Americans viewing Trump and Clinton unfavorably, the Libertarians have long said they see this election as their breakout moment. Americans want Johnson in the presidential debates. Trump could lose millennials to Johnson, and the former New Mexico governor could win Utah. 
"We're light-years beyond where we have been in previous election cycles," Sarwark said of the attention paid to his party this election. "It's teeing us up to be even more successful in the 2020 race than we're going to be in the 2016 race."