A new Apple Watch, the Apple Watch 2, may be on its way — here's what we know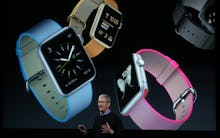 The iPhone 7 might be the most anticipated item released at Apple's event on Sept. 7, but the Apple Watch 2 is poised to make a splash as well. Though it remains unconfirmed, the second generation Apple Watch is widely expected to be unveiled with a few key new features.
Here's what we know:
Features
If the rumors are true, the Apple Watch 2 will feature a GPS chip implanted inside the device. It was previously possible to run Apple's maps app on the watch, but it needed to be synced with an iPhone and its native GPS. An Apple Watch with its own GPS would eliminate the need for iPhone tethering and should prove quite handy for runners looking to map routes without being weighed down by a phone.
The watch's battery life should receive a significant upgrade thanks to a micro-LED display and improved CPU.
There is speculation about a potential cellular chip embedded within the Apple Watch, but reports suggest Apple won't be able to pull it off in time. Cellular data would further liberate the Apple Watch from the iPhone, but its inclusion reportedly drains too much battery. Apple may have to wait until more battery-efficient chips are pioneered.
The potential addition of a front-facing camera and an overhauled design has generated some buzz, but it seems like those features could be pushed back to the Apple Watch 3.
Release date
Assuming the Apple Watch 2 is introduced at Apple's Sept. 7 event, there's a solid chance the device will go on sale sometime this September. Right now, Macworld pegs the release for Sept. 16. A specific date should be confirmed next Wednesday.
Price
Apple marketed the first Apple Watch for $349, but eventually lowered the price to $299. It's possible Apple maintains this price point — especially since the first edition didn't perform too well. Then again, Apple isn't known for cutting costs, and the addition of a GPS could justify a bump back to the original $349 price. Similar to its iPhone Plus strategy, Apple could theoretically offer two versions of the watch — one with GPS, one without — for varying prices.
We'll (hopefully) find out for sure at the Apple event on Sept. 7.