12 songs of the summer that mattered in 2016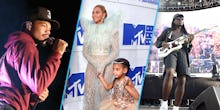 Summarizing a summer into a single, celebrated song seems a very special form of erasure. Of course, radio wants its one single that reigned supreme over all others — played out of every car tuned into the Top 40 and sauntered in at every barbecue. Drake's dancehall-light "One Dance" will likely claim the title this year, according to Billboard's chart and radio metrics. Some time from now, hearing "One Dance" will likely snap certain summer 2016 memories to mind — but will they be the most significant ones? For so many people, the summer's music was so much more.
This was a summer when many in this country needed music to heal, to protest, to turn up, to soothe unimaginable heartbreak. Thankfully, we had releases to satisfy every such need. These are the songs the Mic staff turned to in all those instances in 2016.
"Because I'm Me" by the Avalanches
Sixteen years is a long time to keep a sound stewing on the back burner. To put it in perspective: the Avalanches' last album, the groundbreaking Since I Left You, dropped in 2000. It was a simpler time when T-9 and Razor scooters were hot topics of discussion. The world's tastes and technological fascinations have changed slightly (today, we bitch about autocorrect and hoverboards), but the Avalanches' kaleidoscopic turn-tablism is fresh today as it was in the aftermath of Y2K.
The Australian electronic duo's latest album Wildflower explodes out of the gate, the same way their last did, with a symphonic and soulful jam. This time it's "Because I'm Me." It's throwback instrumentals are buoyant and light, and lift the song's breezy lyrics about self-love into whole new spheres of joy. "If she don't love me, what can I do?" the song's sample of Six Boys in Trouble sings. "Just put on my best pair of shoes/ Because I'm me." They're words to live by, or at the very least, words to help kick off a summer night in style.
— Tom Barnes, music editor.
"Best to You" by Blood Orange
Some of the most moving songs resonate by sowing universal experiences into simple melodies. That slight bit of movement within a familiar framework provides fertile ground for real emotions to bloom. On "Best to You," a standout track from Freetown Sound, the third release from multi-instrumentalist and producer Dev Hynes, private wounds of romantic inadequacy tangle with power ballad production to describe the postmortem fallout of a breakup. The anthem is both devastating and cathartic. Anyone who's ever courted and failed will recognize the pain of unrequited love rendered so vividly in its lyrics. But there's a restorative pulse at the heart of "Best to You," too, beating within the tireless rhythm. It seems to suggest there's true solace in letting go.
— Taylor Jones, video producer
Earlier this week I read that there's a word in German for "the happiness that attends disaster." If such a word had a musical equivalent, it would be Mitski's "Happy," a single off the artist's sophomore album Puberty 2. 
The track begins with an incessant beating that Mitski told NPR in June is meant to evoke the train she sings of in the chorus: "Oh if you're going, take the train/ so I can hear it rumble, one last rumble/ And when you go, take this heart/ I'll make no more use of it when there's no more you." The beat is the kind that wakes you up and makes you feel ready to face the day. As the instrumentals kick into high gear, you'll feel nothing less than elated.
But for Mitski, happiness isn't quite so simple. Alongside the song's bright melody is a set of lyrics that are positively bleak, as "Happy" recounts an oppressive relationship where happiness is reserved for one partner at the expense of the other. 
It's this dissonance that makes the track the perfect summer anthem. Part of experiencing summer is dealing with the thrill of the disaster: the oppressiveness of the July heat, the ice cream cone melting down your hand, the bites of persistent mosquitoes.
If you can't always be happy, Mitski shows us you can at least be "Happy."
— Marie Solis, staff writer
"No Problem" by Chance the Rapper featuring 2 Chainz, Lil Wayne
Presented with a tie-dyed, picture book cheekiness, it's not exactly easy to see how radical Chance the Rapper's Coloring Book truly is. After a first few listens, though, one begins to realize all that's at stake. Police violence, systemic disenfranchisement, the fears that accompany poverty, fatherhood and artistic independence hide between Chance's gleeful, ad-libbed yawps. "No Problem" captures this bravado at its finest.
Chance essentially preaches all-out rebellion against an industry that, as he characterizes it, does little but attempt to turn genius into a quick buck. "You talk that talk that make a lame ass nigga fall in love," Chance raps, characterizing major label temptations. "Not me, though, bitch you can keep those/ Boy I'm at your head like Craig did Deebo." The message is raw: Stand in the way of my artistic freedom and my family's money and I will rain thunder down upon you. But he delivers in a way that's cheery enough for a family barbecue. Anyone who can say life is good and fuck you don't come for mine artfully, poetically in the same breath is a true genius in my book.
— Tom Barnes, music editor 
"Final Song" by MØ
I am addicted to infectious dance anthems, and this summer I indulged my pop proclivities with the gift that is MØ's "Final Song." The song is a nostalgic ode to summer love infused with self-love and self-expression. It's empowering and impossibly catching: "And when you're gone the music go-oo-oo-oes," MØ sings, blending her lyricism with the fluctuating melody.
When I listen to "Final Song," I feel like I can transcend the sweat and heat of New York's subway platforms. The thumping drums make my head bob, and MØ's sweet voice lights up my brain like a sip of sugary margarita. Lucky for us all, the song title is a misnomer — MØ has a sophomore album, likely with songs for all seasons, on the way. It could not come soon enough.
—Alex Orlov, food writer
"Work From Home" by Fifth Harmony
So here's the thing about songs of summer: They are not personal. "Oh, this is my song of summer!" you shout when someone puts Rihanna's "Higher" on. "Higher" is a great song — you know who else's song of summer it is? No one's. Because it wasn't a single, and it's not a bop that gets played at beach parties and backyard barbecues.
The song of summer must be fun, light, a little risky but ultimately pretty family-friendly. Most of all, it has to be catchy, with a chorus even your mom can know. For that reason, 2016's song of summer is "Work From Home" by Fifth Harmony, which is the definition of an indefatigable, irresistible pop hit.
Don't like that song? Think there was a better one? Doesn't matter. You don't choose the song of summer. I don't choose the song of summer. We as a culture choose the song of summer. And without even realizing it, as we let "Work From Home" take over pop radio and play at every summer party, we chose it. Like it or not, "Work From Home" is ours.
— Kevin O'Keeffe, arts editor
"This Is What You Came For" by Rihanna, Calvin Harris
Capturing the moment you first lock eyes with a new beau across the dance floor, "This Is What You Came For" is a musical Frankenstein's monster out of a summer anthem lab. Calvin Harris supplies the infectious dance beat, Rihanna delivers a come-hither lyrical interpretation and Taylor Swift (seen in the writing credits, but not heard) delivers simple, catchy hooks. While too many titans on one musical offering can deliver mixed results (for every "Telephone" there's a "Beautiful Liar") — the talents on this song don't clash, they actually reach slick sonic cohesion. The song transforms any summer moment at the club into a moment of possibility. You might just meet that special someone — even if they're only special for one night.
— Mathew Rodriguez, staff writer, Identites
"Into You" by Ariana Grande
At heart, Ariana Grande is just a girl who loves to belt out a good tune. Because of that, some of her prior musical attempts to sound sexy often felt forced and inauthentic. But on "Into You" Grande finally nails the sweet combination of fun, flirty sexual come-on ("Got everyone watchin' us/ So baby let's keep it secret,") and vocal prowess we've been waiting to hear from the star. 
"Into You" is a logical progression of her earlier work, like the flirty "The Way" and break-up banger "Problem" — but what makes the song a summer anthem is that it remains so squarely in the realm of flirtation that it never takes itself too seriously. Grande's ode to rising temperatures and body touching is, like a summer fling, about pure infatuation rather than long-term commitment. And, like a summer boyfriend, for the song's four-minute runtime, everything seems sweet, soaring and perfectly in tune.
— Mathew Rodriguez, staff writer, Identities
"Never Be Like You" by Flume featuring Kai
"Never Be Like You" has been on every playlist I've made since it came out in January 2016. I was instantly hypnotized by its dramatic beats, sparkly intro and Kai's smooth vocals. From the moment I heard it, the song became the melodramatic background music to just about every scene in my year thus far: from a not-so-pretty breakup to a memorable New Orleans trip to moving to a new apartment.
In my opinion, there are few songs that can play during both sad and happy moments as seamlessly as "Never Be Like You." I expect it to continue to do so for the rest of 2016, because who knows what's in store. 
— Kathleen Wong, branded content writer
"Solo" by Frank Ocean
Frank Ocean may have left for four years, but he came back at just the right time. With "Solo," the R&B hitmaker croons of a failed relationship and how finding comfort on one's own is the only way forward. 
Heartache is one of the hardest things for anyone to go through, few things help like music. Ocean's hymn of self-love and deep appreciation for life's firefly flashes of joy — dancing like nobody is watching, vibing with new lovers and plenty of weed — make this an inescapable singalong for anyone overcoming hardship.
— Chris Riotta, music staff writer
"First Day Out Tha Feds" by Gucci Mane
Gucci Mane surprised a lot of people when he dropped "First Day Out Tha Feds" a day after his release from prison. To some, though, it felt like we'd seen this before. In 2009, Gucci released the outstanding "First Day Out," again, immediately after the end of a jail sentence. But "First Day Out Tha Feds" showcases his writing like never before. 
Over a steady beat from Mike WiLL Made-It, the song's provocative, and deeply emotional lyrics shine through. "I'm hearing shooters load pistols while I'm brushing my teeth, I get so many death threats it's getting normal to me," a paranoid Gucci opens. Later, he laments: "They call me crazy so much, I think I'm starting to believe them/ I did some things to some people that was downright evil/ Is it karma coming back to me?"
It's almost impossible not to sympathize, felony convictions and all. Garnering over 1 million plays the very day it was released, the track re-elevated Gucci Mane to mainstream stardom, where he rightfully belongs.
— Jake Miller, research assistant
"Freedom" by Beyoncé 
Summer 2016 has overflowed with black pain and sorrow — in Minnesota, Louisiana, Texas and countless other places across the globe. So naturally, Beyoncé's "Freedom," an ode to black women, liberation and the fight for justice, is my one-song soundtrack to #freeblackwomansummer. This hashtag — started by social justice activist Brittany Packnett on Twitter — is an ode to finding joy amid our pain, by living our free-est, lit-est, most loving, most unapologetic lives. 
Throughout this summer, black women have had much to celebrate in terms of #BlackGirlMagic. Cheers to Simone Biles, Simone Manuel and dozens of others who broke barriers at the Olympics, to Zendaya who'll play Spider-Man's boo, shirking stereotypes about what comic book characters look like, to Ava DuVernay, director of A Wrinkle in Time, the first woman of color to make a $100 million movie.
But perhaps most importantly, cheers to you, black woman reading this, who has managed to conquer ordinary and extraordinary obstacles every damn day. "I break chains all by myself, won't let my freedom rot in hell." Indeed, Queen Bey, indeed.
— Erin Evans, identities editor
You can listen to the full playlist via Spotify below and check out more playlists by Mic here.