Here are all the weird, wacky merchandise you can buy from the Trump and Clinton campaigns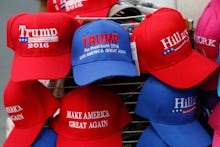 The 2016 presidential election will certainly go down in history as one of the most contentious and controversial. So why not purchase a piece of that history from the campaigns to remember the occasion? Whether you support Republican nominee Donald Trump or Democratic nominee Hillary Clinton, there's something for everyone.
We took a look at the merchandise available from each campaign, and some oddball offerings from around the internet. Here are a few of the more off-beat pieces of memorabilia featuring Trump and Clinton:
Hillary Clinton
Clinton is known for her love of pillows. The 68-year-old grandmother often requests back support when she sitting down, including this image of her propped up with an embroidered pillow that says, "A woman's place is in the White House." Her campaign sells a version of this pillow on its website for $55. "The perfect touch for any home, whether it's 1600 Pennsylvania Ave. or simply Pennsylvania," the website says.
Back in May, Trump made headlines during a rally in Washington state when he accused Clinton of "playing the woman's card." 
"You know, she's playing the woman's card," Trump said. "If she didn't play the woman's card she would have no chance, I mean zero, of winning." The Clinton campaign responded by selling a deck of "woman cards." "If fighting for equal pay and reproductive health is playing the woman card, then deal us in," her campaign website says.
The former first lady, New York senator and secretary of state has a reputation for being tough. And now you can channel that toughness with a Clinton nutcracker from Arizona-based Damn Handy Products. "Made from premium parts including her famous Stainless Steel Thighs. Just place a nut between her legs and squeeze. Cracks the toughest nuts, including Republican, Democratic, Brazilian walnuts, pecans, etc."
Winter is right around the corner. What better way to warm up than with a cup of Clinton hot chocolate? "Simply place two to three tablespoons in 6 ounces of hot water, stir and enjoy. Made in the USA and kosher certified." And if you're not a Clinton supporter, there's a "No Hillary blend" available.
Does the thought of Trump becoming president of the United States make you feel sad? This Clinton bar of soap, shaped in the form of her head, can wash away your tears.
Donald Trump
The Trump campaign offers its signature item, the "Make America Great Again" baseball cap. It also peddles a lot of anti-Clinton merchandise, including this T-shirt with the message: "This shirt has been [redacted]. Love, Hillary. "Hillary's career has been based on censoring or obscuring the law. Wear this tee to remind people of her corruption," Trump's campaign website says.
What better way to show your support for a presidential candidate than with plastic bags to pick up your dog's poop? The dog bags feature a picture of Donald Trump, with the slogan "Dumps for Trump."
Who doesn't want to eat a cookie in the shape of Trump's head? Michigan-based D.W. Rogers Sales sells these cookie cutters for just $2.99 on Amazon. They're sure to be a hit at the local PTA meeting.
Trump is known for his feisty rhetoric and heated political rallies. Now there's a "President Trump" hot sauce available made with vinegar, cayenne peppers, salt, garlic and natural spices. "No P.C. added."
Trump's hair has been the subject of much curiosity. The mystery behind his infamous combed-over coif may never be fully revealed, but now you can "grow" Trump's hair with this Chia pet. One reviewer on Amazon said: "This product makes Chia GREAT again!"