Mark Ruffalo cast Matt Bomer as a trans woman because he played such a good gay man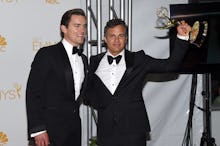 After news broke that out gay actor Matt Bomer would play a transgender sex worker in the upcoming film Anything, the internet was none too happy with the decision. 
On Wednesday evening, actor Mark Ruffalo addressed the controversy and trans representation in Hollywood with two tweets to his followers. 
"To the Trans community," Ruffalo wrote. "I hear you. It's wrenching to you see you in this pain. I am glad we are having this conversation. It's time." 
Ruffalo then said that he tapped Bomer after seeing his work in the HBO film The Normal Heart, in which he played a gay man.
Unfortunately, as actress Jen Richards and others in the trans community have pointed out, casting a cisgender man in the role of a trans woman perpetuates the myth that trans women are just men in dresses and also puts transgender  women at higher risk for violence.
Ruffalo says he is listening to the trans community, but several people on Twitter think he needs to show more humility and recognize that the conversation he's joining is a long, ongoing one.
As Bomer is still in the role, it's difficult to gauge whether Ruffalo or Bomer have evolved on the topic, but the internet will definitely be watching.