Colin Kaepernick remains seated during 28th Annual Salute to the Military at 49ers game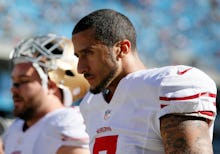 A patriotic pregame took place during the NFL's Chargers-49ers game with San Diego playing host to the 28th Annual Salute to the Military. 
The annual event, billed as tribute to "hundreds of thousands of current and retired military personnel who live and work in San Diego," according to the team's website, drew increased attention due to one player's lack of participation in the national anthem: Colin Kaepernick, who, along with safety Eric Reid, remained seated.
"When there's significant change and I feel like that flag represents what it's supposed to represent in this country, I'll stand," Kaepernick told reporters Sunday, according to ABC News.
The San Fransisco 49ers quarterback remained steadfast in his decision to remain seated during Thursday night's celebration, a gesture that first made headlines less than a week ago, and has since sparked a heated debate online.
"I am not going to stand up to show pride in a flag for a country that oppresses black people and people of color," Kaepernick said to NFL.com in a post-game interview. "To me, this is bigger than football and it would be selfish on my part to look the other way. There are bodies in the street and people getting paid leave and getting away with murder."
The air of particularly charged patriotism serves as a stark reminder of the bravery in Kaepernick's calling out of a system that has time and time again oppressed people of color. 
This is only the beginning with the NFL's official season opener on Sept 8th, so expect Kaepernick's sits-outs to remain a regular topic. Now hopefully the discussion he's trying to ignite can surpass the attention being paid on the gesture itself.