Hurricane Hermine makes landfall in Florida, begins wet, windy journey up the East Coast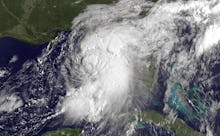 After hurtling ominously toward Florida's Gulf Coast, Hermine made landfall just east of St. Marks, Florida, around 1:30 a.m. Friday morning as a Category 1 hurricane, the Associated Press reported. The hurricane — which brought a "life-threatening" storm surge, heavy rainfall and winds about 80 miles per hour — is the first to directly hit Florida in 11 years.
The storm proceeded to make its way into Florida, leaving over 70,000 customers without power in the state capital of Tallahassee, according to CNN. 
Florida State University, which has been closed due to weather since Thursday, lost power to most of its main campus, according to a 3:30 a.m. bulletin from the school. "There are several downed trees and power lines," it stated. "Everyone should remain sheltered-in-place until instructed otherwise."
On Twitter, Florida Gov. Rick Scott urged residents to "stay indoors" even if the weather is "calm outside."
According to a 5 a.m. update from the National Hurricane Center, Hermine — now a tropical storm — is "weakening while moving farther inland," though the life-threatening surges and heavy rains continue. As of 5 a.m., it was located 30 kilometers, or over 18 miles, west of Valdosta, Georgia, with maximum winds at 70 miles per hour.
After moving through Georgia, Hermine is predicted to hit the Carolinas Friday night and Saturday, according to the National Hurricane Center. From there, it'll continue its journey up the East Coast, the AP reported.