Larry Wilmore takes over Stephen Colbert's 'Late Show' monologue, talks cancellation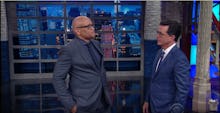 Two weeks after the final episode of The Nightly Show, former host Larry Wilmore took his late-night hosting talents to Stephen Colbert's Late Show, by trying to replace him. Thursday's show opened with Wilmore taking Colbert's opening monologue, breaking down Donald Trump's latest speech before Colbert intervened.
"I'm sorry, man," Wilmore quipped. "I thought whoever leaves 11:30 at Comedy Central just gets the Late Show." 
After Colbert disagreed, a deflated Wilmore asked if this was because he was black. 
"A little bit, yeah," Colbert replied.
Later in the show, Wilmore returned for a proper sit-down interview with Colbert, where they unpacked the show's abrupt cancellation. Wilmore admitted he was shocked at the timing — just months before the election — but said it stings even more with the racial issues that have made headlines since The Nightly Show's send-off. 
"I will say this, though: I am very upset that they did cancel a brother's show when all the best, worst racial stuff started happening," he said. "Hillary [Clinton] calls Trump a bigot; he calls her a bigot; he's going on his Mexican tour right now; you got [NFL quarterback Colin Kaepernick] who won't stand for the national anthem for racial issues. All the best racial stuff happens now when I lose my show." 
Wilmore also reflected on The Nightly Show's finale, in which Jon Stewart made a final appearance praising Wilmore's show, and how Stewart influenced the show's tone. 
"Jon said he wanted to do a show where people could be on who don't get represented all the time, and hear from voices that don't get a chance to be heard all the time — underrepresented voices," Wilmore said. "It was funny; Jon said, 'Larry, you can go to any problem in the country right now, and if you scratch it hard enough, underneath it's going to probably be race, class or gender that's going to be the issue there.' And I had never really thought of it that way." 
Check out Wilmore's full interview with Colbert — where they also discussed their turns hosting the White House Correspondents' Dinner — below: