Samsung's Galaxy Note 7 is exploding — and Samsung just issued a recall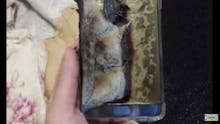 If you can't handle the heat, I hope you didn't buy a Samsung Galaxy Note 7. 
On Thursday, there were reports that some of the devices' batteries were exploding, with images and videos of the scorched remains of the smartphones leaking online. 
Today, Samsung confirmed in a statement that there was an issue with the Samsung Galaxy Note 7 batteries. Samsung has now "stopped sales" of the device and will replace purchased phones "with a new one over the coming weeks." 
Samsung also revealed in the statement that as of Thursday, there were 35 reported cases globally regarding the Galaxy Note 7.
"We acknowledge the inconvenience this may cause in the market, but this is to ensure that Samsung continues to deliver the highest-quality products to our customers," the statement reads. "We are working closely with our partners to ensure the replacement experience is as convenient and efficient as possible." 
The recall comes just ahead of Apple's Sept. 7 event, where it will very likely unveil its new phone lineup. The iPhone 7 has been criticized for its very minor (rumored) updates, but it has one thing going for it: It's not bursting into flames.
"This is some major buzz-kill for Samsung, especially given all of the hard-earned excitement that products like the Note 7 have been garnering lately," IDC analyst Bryan Ma told Reuters. "The pending Apple launch puts all the more pressure for them to contain this quickly. The timing of this couldn't have been worse."
Hot damn.