Elon Musk's net worth fell by $779 million the same day his rocket blew up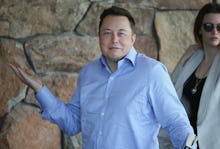 Elon Musk is frequently compared to Iron Man for his audacious vision, wonky tweets and willingness to take big risks. 
On Thursday, some of that risk-taking came to head, with Musk's net worth shrinking by nearly $1 billion dollars — $779 million, according to Bloomberg — in a single day. 
There were two main reasons for the drop. 
The first is that the stock price of two publicly traded companies under his control — SolarCity, which creates solar panels, and Tesla, which builds electric cars — fell due to mixed reactions over a proposed merger between the two. 
The second reason is that on Wednesday, word got out that he had put up some of his Tesla stock as collateral to borrow money to cover personal expenses. 
Musk is worth nearly $12 billion according to Forbes, but a lot of that money is tied up in investments in his companies and he doesn't take a salary.
Incidentally, the blow to Musk's fortune had little to do with an even flashier setback: The explosion of a SpaceX rocket — another Musk venture — that also happened to be carrying a satellite associated with Facebook's project to expand internet access.
Though it was the second high-profile crash in just over a year, according to Bloomberg, it may be a bigger problem for Facebook than SpaceX. 
Crashes of this kind aren't particularly uncommon — they happen about 5% of the time. Facebook's satellite was intended to help make internet available more widely in Africa.
Somewhat awkwardly, Facebook founder and CEO Mark Zuckerberg was actually in Africa at the time to promote the project. After the crash, Zuckerberg wrote in a Facebook post that he was "deeply disappointed to hear that SpaceX's launch failure destroyed our satellite."
Luckily for Musk, the rocket and its payload were both insured.