Henry Kissinger may endorse Hillary Clinton. That could lose her more votes than it gains.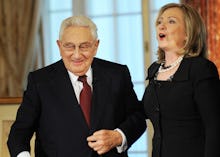 As Hillary Clinton continues to court prominent Republican endorsements, Politico reports that she could be on the verge of landing two of her biggest yet: Former Secretaries of State Henry Kissinger and George Shultz.
"We are going to do it together," Shultz, who served as President Ronald Reagan's chief diplomat, told Politico. "It will have more impact."
While Shultz indicated that discussions surrounding a potential announcement were ongoing, the news that a Kissinger endorsement may be imminent is likely to fan progressive anxiety surrounding how Clinton would govern should she emerge victorious on Election Day.
The Democratic presidential nominee has encountered liberal suspicion thanks to her hawkish foreign policy record and her self-proclaimed "moderate and center" worldview. But Kissinger's stamp of approval could test Clinton's relationship with her party's base more than any other event since she clinched the Democratic nomination.
Why Kissinger is a lightning rod: The Nixon-era foreign policy and national security consigliere's view is one of the most prominent proponents of the realist view of international relations, which holds that the national interest — not soaring principles like human rights or democracy promotion — ought to be the guiding principle of a nation's foreign policy.
Kissinger's realism led him to champion policies that critics have variously derided as amoral and, in the telling of the progressive web site Salon, "genocidal."
In one particularly jarring illustration of Kissinger's often cold-blooded view of international affairs, he is heard on a 1973 White House tape telling the president, "[I]f they put Jews into gas chambers in the Soviet Union, it is not an American concern. Maybe a humanitarian concern."
Kissinger has also come under fire for his role in the Nixon administration's military interventions in Southeast Asia and support for toppling democratically elected governments in countries like Chile.
The Clinton-Kissinger connection: Clinton, who like Kissinger, served as secretary of state, counts the 93-year-old among her friends — a point that became fodder for attack from Sen. Bernie Sanders during his progressive primary challenge this year.
"In her book and in this last debate, she talked about getting the approval or the support or the mentoring of Henry Kissinger — now I found it rather amazing, because I happen to believe that Henry Kissinger was one of the most destructive secretaries of state in the modern history of this country," Sanders said at a Democratic debate in Milwaukee in February.
"I'm proud to say that Henry Kissinger is not my friend," he went on. "And in fact, Kissinger's actions in Cambodia, when the United States bombed that country ... created the instability for Pol Pot and the Khmer Rouge to come in, who then butchered some 3 million innocent people — one of the worst genocides in the history of the world. So count me in as somebody who will not be listening to Henry Kissinger."
How an endorsement might play: Since it emerged that Clinton's campaign was seeking Kissinger's support, many progressives who backed Sanders have expressed fear that it could signal a less liberal direction for a future Clinton administration.
"What I find worrisome is when you have Clinton reaching out to people like Henry Kissinger and have people saying he's going to be a voice she listens to on foreign policy," Charles Chamberlain, the executive director of Democracy for America, which backed Sanders in the primaries, recently told Mic.
Notably, Kissinger's realist foreign policy isn't only controversial among progressives; it's also encountered scorn from neoconservatives, who prize democracy promotion around the world — by military force if necessary. Clinton has already attracted the support of prominent neoconservative figures like Max Boot and Robert Kagan, while another, former Bush administration official Paul Wolfowitz, said he may end up backing her.
Clinton's support from a diverse array of GOP figures says as much about the party establishment's horror at Donald Trump as it does about the policy direction she'd take in office.
But as Clinton sees her standing slip with constituencies that helped fuel Sanders' primary bid, her association with figures like Kissinger may dampen liberal enthusiasm ahead of the Nov. 8 election. And it's unlikely that there's a substantial moderate or conservative constituency that hasn't been swayed by previous GOP endorsements for Clinton and is simply waiting on word from Kissinger.
The risk for Clinton, then, is that such an endorsement loses her more votes than it gains her.
A Washington Post-ABC News poll released this week found that Clinton's favorability rating among liberals had dipped to 63%, down from 76% in early August. Meanwhile, 34% of liberals viewed her unfavorably, up from 24% in the immediate aftermath of the party conventions. Voters under age 50 also took an increasingly dim view of Clinton, with her favorability declining from 47% to 41%.
As some national and swing-state polls show a tightening of the race between Trump and Clinton, the former secretary of state may see Trump move yet closer if the most fervent progressives don't turn out in November, or back candidates like Green Party nominee Jill Stein.
Progressives who are suspicious of Clinton — and resent charges that their disillusionment could elect Trump — note that she still has more plausible paths than the Republican to the magic 270 electoral votes. It's what comes after she reaches that threshold that most concerns them.