Latino Donald Trump supporter says more Mexicans means a taco truck on every corner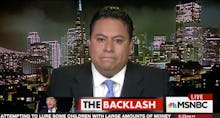 Pass the Tapatio, because this Donald Trump supporter has a proposition for you! 
While on All in With Chris Hayes on Thursday evening, Latinos for Trump founder Marco Gutierrez warned of the danger of allowing Mexican culture to enter the United States unabated. 
"My culture is a very dominant culture, and it's imposing and it's causing problems," Gutierrez said. "If you don't do something about it, you're going to have taco trucks on every corner." 
Gutierrez's comments came during a discussion of Trump's proposal to deport millions of immigrants, which he iterated during a speech in Arizona on Wednesday. Trump's anti-immigration speech came after he made a joint appearance with Mexican president Enrique Peña Nieto earlier in the day, with Nieto later iterating he would not pay for Trump's proposed wall on the United States' southern border. 
After Gutierrez described the culinary wonderland that the United States could become if Trump loses the presidency — a nation that resembles an all-you-can-eat taco buffet — Twitter lit up in response to his comments. 
If there are going to be taco trucks on every corner, at least Americans know someone who always carries hot sauce with her.