White Nationalist Movement grew on Twitter by 600% in 4 years, outperforming ISIS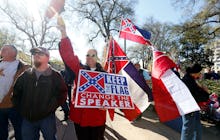 It's now official: There are more white nationalists and neo-Nazis on Twitter than members and advocates of ISIS.
The George Washington University's Program on Extremism conducted a study, led by J.M. Berger, comparing and analyzing the use, reach and scope of white nationalists, Nazi sympathizers and ISIS supporters on Twitter.
The report, published on Thursday, revealed that the follower growth of "major white nationalist movement and organization accounts" grew by 600% from 3,542 in 2012 to 25,406 followers in 2016. The study also found white nationalists surpassing ISIS in metrics from tweets per day to follower growth.
The most common theme for white nationalists on Twitter is "white genocide," or the belief that white men are endangered by diversity, according to the report. 
"Followers of white nationalists on Twitter were heavily invested in Donald Trump's presidential campaign," the report said. "White nationalist users referenced Trump more than almost any other topic, and Trump-related hashtags outperformed every white nationalist hashtag except for #WhiteGenocide within the sets of users examined."
Aside from references made about white genocide and Donald Trump, the report found "pro-Nazi propaganda was tweeted more often than any other content." Nazi-sympathizing accounts are also more common among accounts within the white nationalist movement on Twitter.  
The report also linked terrorism enacted by white nationalists to social media activity. The study referred to Dylann Roof killing nine black churchgoers in South Carolina and Anders Breivik, who published his anti-Muslim manifesto on Twitter and Facebook, killing eight people with a detonated van bomb and shooting 69 people dead in Norway. 
The most troubling aspect, however, is the "relative impunity" white nationalists have on Twitter in comparison to ISIS supporters. In other words, white nationalists don't receive the same punishment and consequences for similar tweets that ISIS sympathizers post.
"Given the outsize impact of ISIS, the number of adherents it claims, and its organized approach to social media, this disparity is almost certainly driven by an aggressive campaign of account suspensions targeting ISIS users on Twitter, driven at least in significant part by user reporting," the report said. "In contrast, white nationalists and Nazis operate with relative impunity."
In August, Twitter announced it suspended 360,000 accounts for violent threats and terrorism promotion since its efforts to clamp down on ISIS and extremism-associated Twitter accounts for suspension since mid-2015.
In a statement, a Twitter representative told Mic that they have a very clear policy on hateful conduct on their social networking site in regards to race, religion, gender, gender identity, sexual orientation, nationality, disability or disease. 
Ghostbusters actress Leslie Jones made headlines in August when she became the target of internet trolls who were sending racist and sexist tweets. After Jones contacted Twitter CEO Jack Dorsey on Twitter, the site began shutting down and suspending accounts. In June, Mic revealed that (((Echoes))), a secret symbol Nazi-sympathizers and white nationalists used to target members of the Jewish faith online.
New York Times' Washington bureau editor Jonathan Weisman was one of the victims when he was harassed with anti-semitic tweets from the alt-right, Nazi-sympathizers and white nationalists. In June, he announced that he will be taking a hiatus from Twitter claiming that the company did little to address the harassment. 
There has been no statement, however, if Twitter made any efforts to crack down on threats of violence and the promotion of terrorism by white nationalists.
Mic reached out to the Donald Trump campaign for comment.