Was the 'American Horror Story' season 6 theme accidentally revealed on Rotten Tomatoes?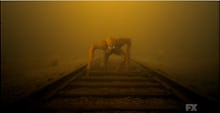 While FX had hoped to keep the season six theme of its anthology series, American Horror Story, a mystery up until its Sept. 14 premiere, it may have been revealed thanks to a couple of media slip-ups. If they're correct, get ready for American Horror Story: The Mist. 
The apparent culprits: Rotten Tomatoes and TV Guide. Per the Wrap, the reviews aggregator website Rotten Tomatoes had briefly listed the new AHS season on the site, under the title "The Mist". However, it's since been amended with the addition of a "FALSE" — because they really want people to know it's a mistake. 
While the Rotten Tomatoes error could have been construed as an one-off slip-up, Reddit user wwfmike shared a photo of the latest issue of TV Guide on Thursday, and in the magazine the upcoming season of the show is also listed as The Mist. 
Given that FX's CEO John Landgraf said that most of the season six teasers — and there are a lot of them — are purposeful misdirections, the leaks have ostensibly whittled down the fake teasers as well. After all, one of the clips is called "The Mist," and features an inhuman creature crawling on a railroad track.
Of course, none of this is official — and we're not likely to get any such confirmation until the season premiere. In the meantime, fans can continue to speculate whether we're looking at a new season of mist, demon babies or mysterious colony disappearances.
Mic reached out to FX, which declined to comment on the issue.