Here are all the 2016 presidential debate moderators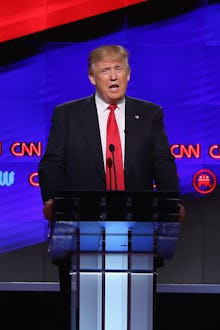 The moderators for the 2016 presidential debates are four prominent television journalists who have never hosted a debate between the two major-party presidential nominees.
NBC's Lester Holt, CNN's Anderson Cooper, ABC's Martha Raddatz and Fox News Sunday host Chris Wallace will moderate the three presidential debates, according to CNN. Raddatz hosted the vice presidential debate in 2012. The first debate will take place on Sept. 26 at Hofstra University in New York. 
The debates attract tens of millions of viewers and offer a highly coveted opportunity for candidates to make their pitch to Americans. In 2012, Mitt Romney surged after his first debate performance against a seemingly aloof President Barack Obama. But Obama improved his performance in the second and third debates, solidifying his position in the polls.
Holt will lead the first debate later this month. Cooper and Raddatz will co-host a town-hall style presidential debate in St. Louis on Oct. 9. And Chris Wallace will moderate the final debate in Las Vegas on Oct. 19 — three weeks before the election. 
Cooper, Raddatz and Wallace will be familiar to viewers of the 2016 presidential primary debates. Holt hosts NBC Nightly News. In a twist, Bob Schieffer of CBS News and Jim Lehrer of PBS will have no role in this year's presidential debates. Both have moderated presidential debates since at least 2004. In 2000, Lehrer did all three.