How an elephant came to symbolize the Republican Party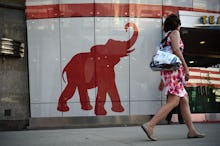 Unlike the Democrats, the Republican Party has embraced its party mascot. The elephant appeared in July at the Republican National Convention in Cleveland. It appears on the party's website. It even appears on the skirts of GOP supporters.
Like the donkey of the Democrats, the elephant goes back to political cartoons of the mid- to late 1800s.
In an 1864 ad that celebrated Abraham Lincoln's re-election as president, an elephant is shown under the headline "Victory, Victory!" This image appeared in the pro-Lincoln newspaper Father Abraham.
"Seeing the elephant" was slang among Civil War soldiers for fighting in battle, according to Harper's Weekly. This made the image of a charging elephant reasonable to associate with a wartime political victory for Republicans, the party in power. While this is the first recognized association of the elephant with Republican politics, it is not the cartoon credited with linking the party to the tusked giant. 
In 1874, Harper's Weekly cartoonist Thomas Nast drew a caricature of the Republican Party as an elephant seen as the lasting link between the two. Nast's cartoon, published shortly before the 1874 midterm elections, shows the elephant tumbling toward a pit. 
Democrats gained control of the House of Representatives a few weeks later. Nast penned a follow-up cartoon of the Republican elephant in the pit and over the coming years, developed the elephant as the mascot of the party. 
As with the Democratic donkey, the elephant became associated with the Republican Party and eventually, the symbol was adopted by Republicans.