Safari 9 and Mac OS X El Capitan security patch: Update now or risk a malware attack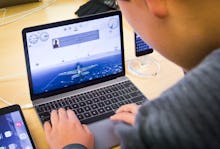 Remember the hack that had iPhone owners scrambling to upgrade their operating systems last week? Turns out it's also available on OS X and Safari! Apple has rolled out updates to Safari 9, OS X Yosemite and OS X El Capitan to patch the security vulnerability in its laptop and desktop devices, which means you should update your Mac's operating system ASAP. 
The security vulnerability gives hackers remote control of your device, allowing them to turn on your camera or microphone and "install surveillance software," the Telegraph reported. It also grants hackers access to your text messages, calendars, emails, WhatsApp messages, location, microphone and passwords, according to the Hacker News. 
The Hacker News notes that it makes sense that the security exploit is cross-platform — Apple's mobile and desktop operating systems "share much of the same codebase." 
The spyware was discovered by activist Ahmed Mansoor after receiving a suspicious text on his iPhone, which included a link. He sent the link to a security researcher, who then discovered the vulnerability. 
Bottom line: Update your operating systems and don't click on links from strangers.