Davao explosion wounds at least 30 in Philippines President Rodrigo Duterte's hometown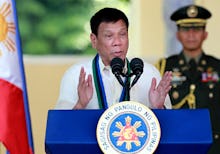 An explosion in Davao, Philippines, the home city of President Rodrigo Duterte, has wounded at least 30 people and killed at least 10, Reuters reported.
Reuters also said Duterte was visiting Davao at the time, but was at a police station and safe. 
The explosion happened in a market at night, according to local Philippines newspaper the Inquirer.
Duterte is the former mayor of Davao, a city he ran for over two decades and which is now run by his daughter. His son is the city's vice mayor.
During his tenure as Davao mayor, Duterte became known as "the Punisher" because of his vigilante approach to the city's violence problem. He encouraged the killing of suspected and alleged criminals — before a judicial process — and offered $120,000 for the severed head of a gang leader, according to the Daily Mail.
"Here in Davao, you can't go out alive," Duterte said earlier this year, ABS-CBN News reported. "You can go out, but inside a coffin. Is that what you call extrajudicial killing? Then I will just bring a drug lord to a judge and kill him there — that will no longer be extrajudicial."
His aggressive overhaul of Davao made it ostensibly safer and converted it into a tourist destination. It also helped propel him into national politics, ultimately leading to his presidency. 
Duterte made the "war on drugs" a prominent part of his campaign, saying he would use similar methods to those used in Davao to tackle the country's drug problem. Since he took office on June 30, over 2,000 have died in Duterte's purge. 
This story is breaking and will be updated. 
Correction: Sept 2., 2016