Would you eat this savory chocolate pizza topped with cheese, bacon and more chocolate?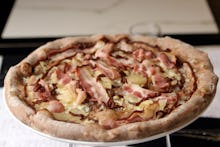 Pretty high up on the list of impossible tasks is finding someone who doesn't actually like pizza or chocolate. The two foods are incredibly beloved (and also somewhat addictive, according to a 2015 study), so it only makes sense that someone would combine them into one hybrid dish. 
Adoro Lei, a restaurant in New York City, is now selling chocolate pizzas, according to a press release. This is no dessert pie, however. The pizza, created in partnership with master chocolatier Jacques Torres, is a savory dish; Torres' cocoa powder is worked into a pizza dough made from just flour, salt and yeast, Adoro Lei executive chef Mario Gentile explained in an email. 
The chocolate pizza crust is then topped with two kinds of cheese (mozzarella and gorgonzola), caramelized onions, fig puree and plenty of bacon. The pie gets a second dose of chocolate flavor from a sprinkle of cacao nibs on top. The result is a sweet and salty dish with hints of deep chocolate flavor. 
The process of creating a chocolate pizza that actually tasted good was not a simple one. It took the Adoro Lei team nearly three months to perfect the recipe, Gentile said.
The toppings proved to be the most challenging aspect. Gentile said he wanted to use bacon for sure (chocolate and bacon is a successful combination, after all). "After many pizza attempts, and what felt like 10 pounds of consumed bacon, we finally found the right balance," he added. 
Adoro Lei is not the first business to combine pizza with dessert. In June, Los Angeles-based ice cream company Cool Haus collaborated with Hanjip, a local Korean BBQ restaurant, to create the Hawaiian pizza ice cream sandwich. The concoction features two white chocolate chip macadamia nut cookies surrounding a pineapple ice cream that is spiked with chunks of Spam. In the words of Guy Fieri, "Brother, that's a symposium of flavor."