A look at the most outrageous presidential debate moments in US history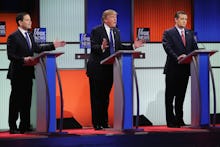 Donald Trump and Hillary Clinton are set to square off Sept. 26 in the first of three scheduled presidential debates before voters head to the polls Nov. 8.
After more than a year of campaigning, through the primaries, political rallies and front-page headlines, Trump and Clinton will finally go head to head at Hofstra University in Hempstead, New York. NBC's Lester Holt will moderate the debate.
The second debate is scheduled for Oct. 9 at Washington University in St. Louis, and will be moderated by CNN's Anderson Cooper and ABC's Martha Raddatz. The third and final debate is set for Oct. 19 at the University of Nevada, Las Vegas, and will be moderated by Fox's Chris Wallace. All three debates will take place from 9 p.m. to 10:30 p.m. Eastern.  
Presidential debates can often be make-or-break moments for candidates. The historic 1960 debate between Richard Nixon and John F. Kennedy was the first televised presidential debate. Kennedy, looking rested and young, outperformed his Republican opponent, who appeared tired and old. Television changed the game, optics mattered and the "modern" presidential debate was born.
Here's a look at some of the most memorable moments in presidential debate history.
Ford-Carter in 1976
The 1976 election was historic for several reasons. It was the first time candidates for president held a televised debate since the 1960 debate between Nixon and Kennedy. It was also the first time that a debate was held between the vice presidential candidates. 
Gerald Ford famously faltered when he declared there was "no Soviet domination of Eastern Europe." Carter later said the debates were key to his victory. "If it hadn't been for the debates, I would have lost. They established me as competent on foreign and domestic affairs and gave the viewers reason to think that Jimmy Carter had something to offer," he said.
Reagan-Mondale in 1984
The 1984 campaign became historic when Democratic presidential nominee Walter Mondale chose a woman, Geraldine Ferraro, as his running mate. But his opponent, Ronald Reagan, who was 73 at the time, scored political points with this zinger during a debate: "I will not make age an issue of this campaign. I am not going to exploit, for political purposes, my opponent's youth and inexperience." Even Mondale laughed.
Bush-Dukakis in 1998
Michael Dukakis had several gaffes during this election, including the famous photo of him riding in a tank. But another powerful moment helped doom his campaign when CNN anchor Bernard Shaw asked him a question about his opposition to capital punishment during a presidential debate: "If Kitty Dukakis [his wife] were raped and murdered, would you favor an irrevocable death penalty?" 
The question was controversial, but it was Dukakis' answer that voters thought was cold and uncaring. "No, I don't, Bernard," Dukakis said. "And I think you know that I've opposed the death penalty during all of my life. I don't see any evidence that it's a deterrent and I think there are better and more effective ways to deal with violent crime."
Quayle-Bentsen in 1988
The 1988 campaign also provided one of the most memorable moments in debate history, this time between the vice presidential candidates Dan Quayle and Lloyd Bentsen. Quayle, the younger Republican, compared himself to the late John F. Kennedy. Bentsen, the elder Democrat, shot back: "I served with Jack Kennedy," he said. "I knew Jack Kennedy. Jack Kennedy was a friend of mine. Senator, you're no Jack Kennedy."
Quayle-Gore-Stockdale in 1992
The 1992 vice presidential debate was fodder for a famous line from Ross Perot's running mate James Stockdale, who opened the debate with the question, "Who am I? Why am I here?" The question was meant to inform voters of the decorated naval officer's history (he was a prisoner of war for more than seven years in Vietnam), but it backfired when viewers chuckled and wondered if he knew even the answer to the question.
Bush-Gore in 2000
It was the advent of the split-screen that got the best of Al Gore during the 2000 debate against George W. Bush. As Bush spoke, Gore could be seen on camera heavily sighing and negatively reacting to Bush's comments. Gore also had another awkward moment at a separate debate when he stood up and walked directly over to Bush while he was speaking.
Cheney-Edwards in 2004
Democratic vice presidential candidate John Edwards managed to create sympathy among voters for then-Vice President Dick Cheney during a 2004 debate. Cheney's daughter had come out as gay, something that he didn't talk much about. Edwards drew cringes when he brought it up, unsolicited. 
"I think the vice president and his wife love their daughter," he said. "I think they love her very much. And you can't have anything but respect for the fact that they're willing to talk about the fact that they have a gay daughter, the fact that they embrace her. It's a wonderful thing. And there are millions of parents like that who love their children, who want their children to be happy."
GOP primary debate in 2011
It was the "oops" heard around the world. Republican candidate Rick Perry was asked which three government agencies he would eliminate if he became president. He named the Department of Education and the Commerce Department, but stumbled on the third. "The third agency of government I would do away with — the education, the uh, the commerce, and let's see," Perry said. "I can't — the third one. I can't. Sorry. Oops." 
It was an awkward moment, as ABC News' Michael Falcone pointed out. "It wasn't just a fumble or a stumble, it was an all-out face-plant," he said. "The third agency Perry couldn't think of was the Department of Energy, which he rails against on the stump nearly every day."