September Apple Event preview: iPhone 7 and all the new products you can expect Sept. 7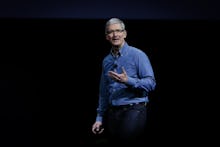 On Sept. 7, Apple will take the stage to seduce us with the latest versions of our metallic best friends. The iPhone 7, iPhone 7 Plus, MacBook Pro and other rectangles will glimmer and whirl on the stage with promises of solving problems you didn't know you had. 
Here's what you can expect to be announced.
iPhone
The next-generation iPhone — probably named the iPhone 7 — will almost certainly be unveiled during Apple's keynote event next week. The iPhone is expected to undergo a "modest upgrade." There's speculation of a new black color, an upgraded camera and better waterproofing. 
The most contentious likely feature is the lack of a headphone jack, meaning the device may come bundled with either an adapter or wireless EarPods. The forthcoming iPhone may be the least-hyped of its predecessors. 
Apple Watch
Aside from a new iPhone, the Apple event may feature the next-generation Apple Watch. If an Apple Watch 2 does make its debut (despite some seriously sad-trombone sales numbers), it is rumored to feature built-in GPS, a faster processor, waterproofing, a juicier battery, a barometer and more Wi-Fi capabilities, the Verge reported. And maybe, just maybe, a camera. 
MacBook Pro and Air
Beyond a new phone and wrist candy, no brand-new products are suspected to debut on Sept. 7, but overhauls to Apple's MacBook and iPad lines — as well as the Apple TV — would be welcomed. (We'll likely get a souped-up, redesigned MacBook Air and Pro, actually — great news if you've been looking to upgrade.)