The 4 biggest details in the FBI's report on the Hillary Clinton email investigation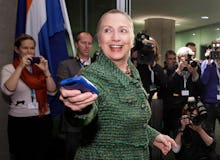 Nearly two months after FBI Director James Comey announced that he would not recommend charges against Hillary Clinton for mishandling classified information as secretary of state, the bureau on Friday released its files on Clinton's use of a private email server as the nation's top diplomat.
The release of the documents is a mixed bag for the Democratic presidential nominee, who spurned advice to circumnavigate the Freedom of Information Act but whose team also erased many of her emails following the New York Times' March 2015 revelation of her private server use.
The renewed attention on Clinton's email practices could damage her standing against Republican nominee Donald Trump, who is creeping closer in some national polls and has repeatedly hammered Clinton on questions of honesty and trustworthiness.
Here are four of the most significant findings in the FBI files.
Clinton used 13 different devices to send emails
Shortly after the publication of the Times report last year, Clinton said that she conducted government business on a private account out of a desire for the "convenience" of using only one device.
"I opted for convenience to use my personal email account, which was allowed by the State Department, because I thought it would be easier to carry just one device for my work and for my personal emails instead of two," Clinton said at the time.
But according to the documents, Clinton used up to 13 different devices to send emails.
Those included 11 BlackBerry devices and two other "e-mail capable mobile devices," the FBI stated.
Some of those devices were destroyed
Justin Cooper, a Bill Clinton aide who maintained the server, destroyed at least two of the email-capable devices by either "breaking them in half or hitting them with a hammer," the documents state.
Cooper was the aide who registered the clintonemail.com domain.
Clinton's team wiped her server after her email practices were revealed.
More than three weeks after the Times broke the Clinton email story, an aide used the BleachBit program to wipe clean Clinton's server, after what the aide called an "oh shit" moment.
Clinton has previously professed ignorance about whether her server was wiped.
"What? Like with a cloth or something?" she mockingly asked in August 2015. "I don't know how it works digitally at all."
Clinton has admitted that her team deleted 32,000 emails deemed personal and not work-related, although Comey said in July that some work-related emails were not originally handed over to the State Department by Clinton's team. He was careful to say, however, that he didn't think Clinton purposefully concealed the emails.
Colin Powell told Clinton how to skirt FOIA
Powell, who served as secretary of state under President George W. Bush and also used a personal email account for government business, cautioned Clinton not to let her BlackBerry use become public, less her communications on it become subject to FOIA requests.
Clinton aide Huma Abedin, however, said the secretary of state's team operated under the assumption that Clinton's missives would indeed be obtainable under FOIA.