CFDA strengthens its diversity guidelines in the days leading up to New York Fashion Week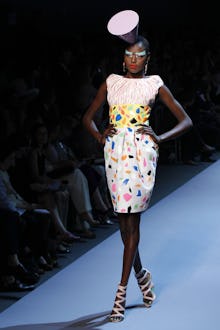 We are less than a week away from New York Fashion Week, and already signs indicate we might be treated to one of the most racially diverse fashion weeks in history. 
According to Women's Wear Daily, this season's annual health initiative letter, sent by the Council of Fashion Designers of America (CFDA) CEO Steven Kolb and designer Diane von Furstenberg to all CFDA members, includes "racial diversity pointers provided by the Diversity Coalition" in an effort to "encourage the industry to be inclusive of racial diversity when preparing casting of models for their company needs."
Among those directly receiving this letter include: Tommy Hilfiger, Marc Jacobs, Phillip Lim, Ashley Olsen, Tracy Reese and Aurora James — the indie designer who recently called out Zara for allegedly stealing her designs.
"Our objective is to make a shift on how the model of color is viewed so it becomes natural to see them participating each season in a greater number than seasons past," the e-mail read according to WWD, in a direct effort to increase the racial diversity present on fashion's biggest runways. While the letter serves as no mandate, it reads as a firm encouragement to the many designers looking to find models to walk in their shows.
Diversity, with regard to the runway, is on the rise: 31.9% of models walking during February's NYFW were models of color, up from 28.4% last September, and up nearly 10% from six months before that. 
Beyond the runway, conversations and celebrations are continuing to percolate surrounding natural hair and more companies, including Kylie Cosmetics, are beginning to recognize that "nude" is not a singular skin tone, creating a variety of shades of makeup for those with darker skin.
Still, no event in fashion draws more attention or scrutiny than New York Fashion Week, and to see the CFDA incorporate guidelines set-out nearly a decade ago underscores the reality that while progress continues to rise, the industry as a whole must remain vigilant in making fashion a world that not only allows for diversity, but celebrates its inherent beauty.