5 ways to get every last drop out of your final days of summer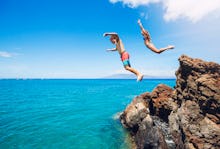 Here's a little-known fact: Summer doesn't end on Labor Day.
OK, that's a well known fact ... but one we forget because we're so used to throwing in the towel after that first Monday in September and effectively throwing away the best part of summer — those late-vintage days leading up to the autumnal equinox. The nights are cooler and the days are shorter, but summer isn't done with you yet. Here are five ways to savor every last drop before the season ends.
Road trip!
Grab your phone and your keys and hit the road. Don't overthink it — the best road trips are unplanned. Pick up some friends, choose a direction and get out of town.
Don't worry about over packing for an impromptu overnight – you can stop off the highway to fill up on simple snacking pleasures: fruit, cheese, chocolate, nuts and sandwiches. Once you reach your destination, relax and enjoy a bottle of wine. You've made it!
Summer screenings
Whether in the park, on a rooftop or at a drive-in, watching movies outside is a true summer pleasure. Enjoy it one more time!
Movies Under the Stars, and Rooftop Films in New York City show films while boasting spectacular views, and Bryant Park is a great option if you prefer to be closer to the ground. If you're in the Bay Area, check out Film Night in the Park.
Still, nothing beats the old-fashioned drive in. A smattering of drive-in theaters have cropped up across the country, ensuring that nostalgia never goes out of style. The Sunset Drive-In in Vermont offers a double feature of big Hollywood movies every night, Becky's Drive-In offers family friendly fun in Pennsylvania, Delsea Drive-In is the last standing drive-in in New Jersey, and the Overlook Drive-In in Hudson Valley is worth it just for the drive up the Taconic Parkway alone.
Better yet, if you have access to a roof of your own, host your own movie marathon with friends. You don't need a fancy projector — small, cheap ones are available online. Hook up a set of speakers and project onto a white wall, a bed sheet or a retractable projector screen. Then throw down a bunch of blankets and pillows, pop some popcorn, pour some wine and press play!
Once more unto the beach!
So you haven't hit the beach this summer. The perfect time is now! The hot summer sun is gone but the weather and water are still warm enough to swim. With most schools back in session, you'll have the sand all to yourself, with no tourists or kids spoiling your chill paradise. And if you're taking a trip out of town, you're bound to find cheaper rental and hotel prices, ample parking, light traffic and a peaceful vibe.
So there's no need to fret about not having hit the beach yet. Let's just say that you've been waiting for the perfect time to go.
Plant for a fall harvest
If you've been looking for an excuse to play in the dirt, get gardening! It's not too late to dig a backyard plot, join a community garden or even plant window boxes with seeds you can harvest in the fall (depending on where you live).
Arugula, collard greens, kale, peas, radishes, turnips and spinach are hearty seasonal options almost anywhere. If you live in the south or the southwest, homegrown cilantro and jalapeños can up your salsa game. And pretty soon it'll be time for apple-picking!
And while you await your harvest, start planning the menu for the fall party where you and your friends will enjoy the fruits of your summer labor.
Toast the end of summer!
With the raucous barbecues and pool parties behind you, it's time to gather your friends for a farewell to summer. And there's no better way to salute the change of seasons than a wine tasting to sample the fruits of the vine.
Select wines by grape, region, vintage or price, and see if you can tell the difference between a Malbec and a Merlot. Try a North vs South American assortment, choose between bold wines and milder ones, or do a blind tasting contest to make things interesting.
The only guideline to keep in mind (besides having enough glasses) is the sequence. Start with your sparkling wines, followed by your whites, your roses, and finally the reds. Finish with dessert wines like Port or Moscato for a sweet, sweet ending to your summer.