The way people misinterpret Nicki Minaj's lyrics shows how hard black women have it online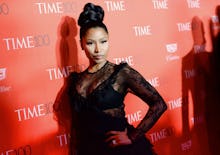 With the release of Ariana Grande's sexually charged, end-of-summer single "Side to Side," rapper Nicki Minaj's verses have wormed their way into the public's ears again. One lyric has somehow become an internet-wide talking point, the song's refrain: "This the new style with that fresh type of flow/ wrist icicle, ride dick bicycle." The way it's being discussed and largely misread has captured some of the internet's true ugliness in portrait.
The phrase is straightforward enough — Nicki's wrist is frosty with jewelry and she's riding her man up and down like a bicycle. However, shortly after the song's release, Urban Dictionary user Abbym posted a definition of "wrist icicle" on the slang lexicon website that refers to a sex act where Minaj's wrist is covered in ejaculate instead of jewelry. It's the user's only definition on the site, and a very gross misreading of Minaj's lyrics, yet it still made its way into a BuzzFeed article about the song. 
Minaj has boasted about wearing expensive jewelry dozens of times in her lyrics. She calls her wrist "icy" in "Want Some More," she has "hundred on the wrist, I ski" in "Lookin Ass," her "wrist on ice" in "Win Again" and she says she "ice my wrists" on "Stupid Hoe." 
Not only does the Urban Dictionary definition of "wrist icicle" perpetuate a falsehood, it affirms the tendency to read Minaj solely through her sexuality. It's not the first time it's happened to one of Minaj's lyrics, and it's a symptom of a much bigger issue in the way the internet treats black women's art and bodies.
According to Treva B. Lindsey, a professor of women's, gender and sexuality studies at Ohio State University, this lyrical misinterpretation highlights the disconnect between Minaj's intent and how we read it. 
"We view every line, every simile through the lens of sexual acts, and that's deeply problematic," Lindsey said in a phone interview. "We read her through the lens of sex. A lot of Nicki's lyrics have absolutely nothing to do with sex and yet that is the most comfortable lens that a lot of people apply to listening to her."
Even when Minaj tries to confront these sexual readings, people continue to interpret her solely as promiscuous and vulgar. 
In December 2014, Minaj dropped the song "Truffle Butter" as a part of her album The Pinkprint. Similar to the misinterpreted "Side to Side" lyric, a very explicit definition appeared on Urban Dictionary a week after the album's release. 
Though the original song refers to an expensive condiment, its Urban Dictionary definition references an unsavory substance that accumulates around a woman's genitalia after a man penetrates her both anally and vaginally. 
Lindsey said that, unlike the "wrist icicle" definition, she had heard the alternate definition before Minaj's use of it. But she says that Minaj's willingness to use the term, but apply a different meaning to it, shows how much Minaj is willing to play with language to assert her financial independence. 
"It's interesting that she reclaims the definition [of 'truffle butter'] and yet it still gets read onto what she's talking about," Lindsey said. "It talks to the way people love to denigrate and marginalize black female sexuality, but also the way Nicki is very attuned to this." 
"'You can go ahead and talk about all of this but I'm still gonna get my money,'" is Minaj's message, according to Lindsey. "'You are going to have to confront your own shit if you're going to actually deal with what I'm bringing to the table.'"
Sadly, when it comes to Minaj's art, people rarely do — instead, they project their "shit" onto her. Both Urban Dictionary definitions cast Minaj's body as dirty, abject and available to be denigrated. 
More than being an indictment of Urban Dictionary, what's important is recognizing how the online lexicon can be used to further the denigration of black women online. 
For a definition to enter Urban Dictionary, it must earn enough up votes from editors, even if those editors have no prior knowledge of the word. The dictionary, which has been used by some journalists to learn about "bae" and by judges who want to understand defendant's use of slang, is a place where people who are outside urban culture can access it. When that source is tinged with misogynoir, black women suffer. 
The misogynoir with which people read Minaj's lyrics is the same type that inspired several people to Instagram themselves posing doggy-style with Tussaud's wax statue of the artist. Tussaud's responded by putting guards around the statue, rather than questioning — as fellow rapper Azalea Banks demanded — why they put the black woman on all fours to begin with. Minaj herself was supposedly "flattered" by the attention and controversy the statue generated.
It's the same misogynoir that inspired trolls to chase comedian Leslie Jones off Twitter during the most successful year of her professional life. After hackers leaked nude pics of Jones, several Twitter users responded with disparaging comments about the star's body. Black women are even measured by their beauty online while they're still toddlers: While accompanying her mother to the VMAs this year, Blue Ivy Carter got trolled and told that she was ugly. 
"People denigrate Leslie Jones as somebody they don't want to have sex with — it's this offensive, deplorable way of talking about her body," Lindsey said. "But with Nicki, it's this exclusively hypersexualized 'You think you have access to her body,' and Nicki is always having to confront that." 
Lindsey added that, unfortunately, "There's no way for a healthy sexuality to be imbibed by the public." 
Minaj has made very clear that she knows how to craft a narrative about herself, whether it's the money-sex-power she raps about in her lyrics, or the way she dominated the 2015 VMAs with three words: "Miley, what's good?" 
Minaj's public persona, her lyrics and her videos are overtly political. She celebrates her body and reclaims acts like twerking that other stars try to steal. In a world that aims to silence black women, Minaj ruffles feathers. And for the butt-hurt people of the internet, that makes her a target. Just because Minaj eschews respectability politics doesn't mean she invites our disrespect.
Here's a good rule of thumb: If your interpretation of Minaj's lyrics takes away her power, then you're probably reading it wrong.
Mic has contacted Urban Dictionary for comment.