A Subway employee reveals the items you should never order at the fast food chain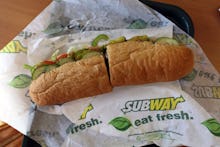 Stay away from the chicken when ordering at Subway. 
Or so says an alleged food chain employee in Britain who conducted an Ask Me Anything on Reddit Aug. 23.
"Avoid: Chipotle Chicken & Teriyaki Chicken (Why? Chicken is given a two-day shelf life, once in the counter. However these two bypass this and get four days, and can get a little stinky)," the alleged employee wrote in response to someone asking what was best on the menu. 
"I'd recommend anything else," they added. 
The commentary produced a response from someone alleging to be a former Subway employee in the United States, which — if true — should make one even more wary of the chicken: 
"I was a subway employee for around a year here in the States and seeing that you guys have a two-day shelf on Chicken Teriyaki amazes me. Our CT had a five-day shelf and we were told that once it reaches the fifth day, to just change the date. With all of the shift changes and varying factors, we never knew how long this chicken was out (between five-nine days). I quit after I got reprimanded for throwing out CT on the fifth day."
The alleged current employee conducting the conversation said what was on everyone's mind: "That is quite disturbing..."
As the AMA garnered media attention, Subway publicly assured its patrons their food is safe to eat.
"All Subway stores are independently owned and operated by franchisees," a spokesperson told the Independent.
"All stores have very strict procedures in place to ensure products are served safely and to customers' satisfaction and all suppliers are required to meet our high standards of food safety and product integrity."