Will Hurricane Hermine hit New York City? Here are the latest updates and timeline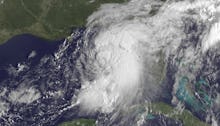 The adorably named but not-so-adorable-looking Hurricane Hermine is bearing down on Florida this Friday, and then it may be headed for New York City, which could be affected starting Sunday night and lasting into Monday. 
On Friday, the National Weather Service issued a tropical storm watch for NYC and much of the surrounding area, including Long Island, Coastal Connecticut and some counties in New Jersey.
According to the NWS, "sustained tropical storm force winds" of 39 to 57 miles per hour and a "significant storm surge" are both possible. Residents are encouraged to stock up their emergency supply kit, and people who live near particularly vulnerable areas may want to find a safer, drier place to wait out the storm.
New York Gov. Andrew Cuomo has activated New York's emergency operations center, WABC reported Friday, and New York City Mayor Bill de Blasio announced that all city beaches will close to swimmers on Sunday and remain closed through Monday or Tuesday.
"I urge all New Yorkers, especially those in the downstate region, to be prepared, check local weather reports, and use NY Alert? to stay updated on the storm's progress throughout the weekend," Cuomo said Thursday, NBC4 reported.
So what should you do if you're a New York City resident? Stock up on snacks and stay tuned for emergency alerts — and prepare to binge-watch an entire TV show Sunday night.