The iPhone 7 headphones may actually be tiny wireless "AirPods" — good luck not losing 'em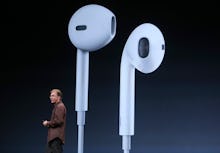 The world is up in arms over a 3.5-millimeter hole. 
There's a lot of contention surrounding Apple's possible removal of the iPhone headphone jack for the upcoming iPhone 7. We won't know for sure until the Apple event on Sept. 7, but it's safe to say Apple is probably getting rid of it — a controversial choice, but we'll have to get used to this new reality.
So how will we listen to music on the next iPhone?
There are a few theories. Photos allegedly showing an iPhone 7 box leaked online this week, pointing to wireless "AirPods" that may be bundled with the next-generation iPhone, casting further doubt that the forthcoming device will keep the headphone jack intact. 
To give the rumor some plausibility, graphic designer Miroslav Majdák mocked up wireless AirPods. They look nearly identical to Apple's current EarPods, just without the cord. 
We've also heard there may be a dongle that comes standard with the iPhone 7. It'd adapt normal headphones to the Lightning port. (Mashable's Raymond Wong put it well: "F*ck dongles.")
There have also been leaked images and videos of Apple headphones that simply connect through the Lightning jack (where you currently plug your phone in to charge). 
The important question: Which of these options is the most annoying? 
I hate to say it, but the worst option we've heard about so far is the set of cute little AirPods (which, by the way, should've definitely been called AirBuds). They look as though they could be blown away like a dandelion. The biggest potential issue here — aside from Bluetooth's known connectivity problems — is that the tiny, precious baby 'buds look too damn easy to lose.
Look at these!
I would hope Apple has the foresight to not release its already underwhelming iPhone 7 with wireless headphones so small a whisper could shake them. 
Or maybe they want you to lose them so you'll shell out the dough for a much-pricier pair of the rumored wireless Beats headphones.