Here's everything we know so far about 'Titanfall 2': New gameplay, networks and more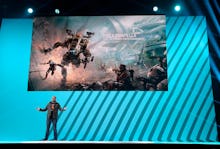 Titanfall arrived in 2014 on the heels of a stunning E3 showing in which it won over 60 awards. Now its successor, Titanfall 2, is looking to push the first-person-shooter genre forward with a couple of major gameplay additions. With the game's October release date approaching, anticipation is running high.
Here's what we know so far:
Single-player story campaign
The original Titanfall managed to make a huge splash at its E3 reveal despite not featuring a traditional single-player story mode. This time around, developer Respawn Entertainment has decided to create an immersive campaign for players who prefer narrative elements over multiplayer brawls.
You'll play as Jack Cooper, a grunt rifleman with dreams of becoming a Titan-operating Pilot. Decorated Frontier Militia Captain Lastimosa takes an interest in Cooper and decides to mentor the young soldier during his training in the Titan. Polygon details the next sequences of events:
At the start of the campaign, however, Cooper and Lastimosa find themselves dealing with a botched Militia operation. They've crash-landed on an alien planet, Typhon. That planet is inhabited by enemy soldiers from the Interstellar Manufacturing Corporation (IMC) and equally dangerous indigenous wildlife. With Lastimosa mortally wounded, it's up to Cooper to revive and bond with his captain's Titan and rescue his fellow Frontier Militia members.
Titanfall 2 is hoping to implement similar mechanics to its predecessor's acclaimed multiplayer mode. Respawn Entertainment's Vince Zampella and Drew McCoy told Game Rant that campaign players will still have "the mobility, the freedom to move around the environment however you want as well as the ability to get in and out of your titan whenever you want."
New gameplay mechanics
Several new combat techniques have been added to gameplay, such as a slide move, grappling hook and throwing knife. Enemy execution is now displayed in third-person perspective.
Respawn nixed every Titan from the original game and is introducing six brand new classes. "The way we looked at Titans in this game is sort of like Street Fighter characters," designer Todd Alderman told Game Informer. "They are packages that play the same way with limited customization on their combat, but a lot of customization on how they look, sound, and stuff like that."
Scorch, for example, is a fire Titan with battle moves such as a thermite launcher. Ion, on the other hand, can shoot laser beams. Each of the six new Titans are detailed in the trailer:
Networks
Titanfall 2 will introduce a neat multiplayer feature called "networks," which allow players to form groups online. Once joining a network, the game will automatically attempt to match you with members of your team so that you can share the experience together.
Check out Titanfall 2's multiplayer trailer below: