Santa Clara police may boycott working 49ers stadium if Colin Kaepernick protests continue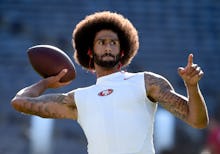 After Colin Kaepernick made national news for taking a seat during the U.S. national anthem, Santa Clara police may join him — by sitting out their duties at 49ers' Levi's Stadium. 
In a letter obtained by KNTV from the Santa Clara police union to Jed York, the San Francisco 49ers' CEO, members of the Santa Clara Police Officer's Association warned that if the organization does not take action to "stop or prevent" Kaepernick's "inappropriate workplace behavior," it could "result in police officers choosing not to work at your facilities." 
After Kaepernick's decision to sit during the national anthem, he wore socks depicting a cartoon pig wearing a police officer's hat, and has vowed to continue protesting until he sees a positive change for people of color in the United States. 
Twitter was quick to react to the news that Kaepernick's actions, seen by many as an act of constructive patriotism, would prompt police officers to refuse to work the stadium. 
Santa Clara police officers are not the only ones denouncing Kaepernick's actions. In a letter addressed to both the 49ers CEO and Roger Goodell, the commissioner of the NFL, the San Francisco Police Officers Association requested that the NFL denounce Kaepernick's comments about police officers. 
"We hope your organizations choose to do the right thing and at least apologize to the many police officers Mr. Kaepernick has disrespected for no apparent reason," the letter reads. 
The letter requested that Kaepernick also speak out against the 40 police officers whose lives have been lost this year and the thousands of black Americans who have been killed by other black Americans. 
The letter did not address the litany of racist texts that San Francisco police have sent to each other, which include racial slurs and calls for violence against black Americans. 
Though Kaepernick has garnered hefty criticism, he has also gained immense support. Aside from the support of singer John Legend, U.S. military veterans also started a #VeteransforKaepernick hashtag to show support for the footballers' right to exercise his first amendment rights.