Wells Fargo put out a brochure that seems to discourage teens from pursuing the arts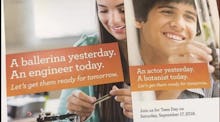 A brochure put out by banking giant Wells Fargo is drawing ire for its seemingly disparaging message to young people who choose to pursue careers in the arts.
The ad, which advertises a "Teen Day" on September 17, features two smiling young people performing jobs in STEM fields. 
"A ballerina yesterday. An engineer today," proclaims the copy next to an image of a young woman. "An actor yesterday. A botanist today," reads the message next to a picture of a young man. Accompanying both photos is the sentence, "Let's get them ready for tomorrow."
A public relations representative for Wells Fargo did not immediately respond to a request for clarification on the ad's intent.
Artists, professors and advocates for liberal arts education took to Twitter to express their dissatisfaction with the ads, which some seemed to think encourage students to pursue what are traditionally regarded as more lucrative fields.
Wells Fargo isn't the first business to drum up outrage for its apparent disrespect of liberal arts fields. 
In December 2015, clothing retailer Old Navy landed in hot water for selling shirts that featured the message, "Young aspiring artist," with the word "artist" crossed out and words like "astronaut" and "president" written in beside it.