Lena Dunham said Odell Beckham Jr. ignored her at the Met Gala and Twitter clapped back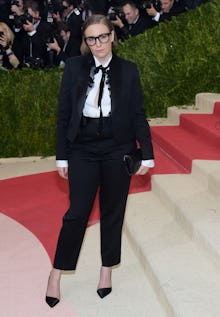 Girls star Lena Dunham is in hot water after publishing an interview with comedian Amy Schumer in which Dunham made a comment about her time at the Met Gala and supposedly being snubbed by football star Odell Beckham Jr. 
During the interview, which appeared in Dunham's Lenny Letter, Dunham said she sat across from Beckham at the fashion event. 
"[He] looked at me and he determined I was not the shape of a woman by his standards," Dunham said. "He was like, 'That's a marshmallow. That's a child. That's a dog.' It wasn't mean — he just seemed confused."
She continued, "The vibe was very much like, 'Do I want to fuck it? Is it wearing a ... yep, it's wearing a tuxedo. I'm going to go back to my cell phone.' 
She went on to say the event should be called the "Metropolitan Museum of Getting Rejected by Athletes."
Many people didn't find her comments about Beckham funny and used Twitter to call her out for trying to go through Beckham's thought processes. 
Plenty of people called out Dunham's own disinterest in casting black actresses on Girls, which has been a criticism of the show since its debut. 
While others pointed out the long, complicated history between white women and black men. 
While others just had jokes.
Writer and director Xavier Burgin tweeted out a long response to the controversy, as well. 
Dunham used her own Twitter to defend herself, claiming the story was only meant to illustrate her own insecurities. 
"My story about him was clearly (to me) about my own insecurities as an average-bodied woman at a table of supermodels and athletes," she wrote. "It's not an assumption about who he is or an expectation of sexual attention. It's my sense of humor, which has kept me alive for 30 years."
Dunham closed her series of tweets with a reference to actor Michael B. Jordan, who she claims she danced with at the Met Gala as well, though that's not part of the original Lenny Letter interview. 
There was some response to her Michael B. Jordan claim, as well. 
Beckham has not commented on the matter and Lena Dunham did not immediately respond to Mic's request for comment.