The South Carolina officer that threw a student across a classroom won't face charges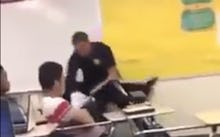 The South Carolina school resource officer caught on camera roughly tossing a student across a classroom last October won't face criminal charges, prosecutors announced on Friday according to Buzzfeed.  
The officer, Ben Fields, was fired in October after the grainy cell phone footage of the incident went viral.
But according to a court summary obtained by Buzzfeed, 5th Circuit Solicitor Dan Johnson did not believe that Field's actions were enough to warrant criminal charges.
A statement from Fields himself within the court summary claims that he had done nothing wrong, insisting the student had been resisting and had attempted to punch him in the face as he tried to restrain her.
"As I continued to use the muscling technique the students leg broke free from the lock the student had on the desk and the student slid across the floor," the statement reads.
As a result of the altercation, the student in question sustained bruises and a minor wrist fracture, according to medical records released by investigators.
In the wake of the incident last October, parents, teachers and law enforcement within the South Carolina community were vocal in their condemnation of Fields' methods.
"I wanted to throw up," Richland County Sheriff Leon Lott said at the time after watching video of the incident, according to Buzzfeed. "It just makes you sick to your stomach."