The Trump kids are getting trolled on Twitter for a sinister-looking picture they took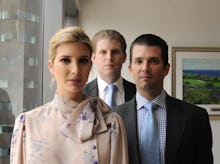 Donald Trump's three children — Ivanka, Eric and Donald Jr. — took to Twitter On Friday to post a run-of-the-mill millennial outreach attempt on behalf of their Republican presidential candidate father.
A tweet sent out from Donald Jr.'s account depicted an image of the three siblings, accompanied by a short message: "This election is not about Republican vs Democrat it's about insider vs outsider. It's time for a change in DC!"
Given the normalcy of the photo and the banality of the accompanying tweet, it only makes sense that things have since gone completely off the rails.
Twitter users are taking shots at the unsmiling faces of Trump's progeny, comparing the original photo to everything from Patrick Bateman in American Psycho to the stars of Children of the Corn. 
Below are some of the most hilarious renditions of the original message: