Leslie Jones returns to Twitter to talk about how much she loves 'Golden Girls'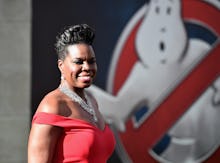 Leslie Jones has returned to Twitter after a nearly two-week hiatus in a blaze of glory to do what Twitter is best for: making hilariously dumb jokes about TV.
"I don't care what nobody say — these bitches make me laugh no matter what the hell is going on. For real," she can be heard saying over a clip of the intro to Golden Girls she uploaded on Saturday.
The Saturday Night Live star has been absent from social media ever since alt-right Twitter trolls began a harassment campaign against her, rallying around a hack of her personal website that saw her nude photos and personal details made public.
The hackers' targeting of Jones seemed to be just the latest episode in an increasingly visible culture of racism and misogyny that thrives in online spaces.
While Jones said on a segment of Late Night with Seth Meyers that the insults didn't scare her, she admitted to feeling disheartened by the hate-loaded attacks, calling them, "so gross and mean and unnecessary."
But for now, at least, it seems that Jones has decided to grace us with her hilarious presence again — and we're all better for it.